Things You'll Need
Block of cheese

Cheese grater

Bowl

1 to 2 tbsp. flour or cornstarch

Spoon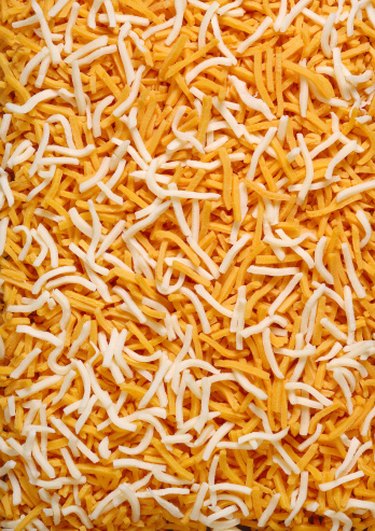 Cheese added to a soup can clump if the chef is not careful. If the cooking temperature is too high or the soup doesn't incorporate wine or another acidic ingredient, clumps may form. Instead of taking the risk of altering the recipe with a few sloshes of wine or lemon juice, you can implement some alternative measures that shouldn't disrupt the integrity of the recipe and will keep you and your family from having to suffer lumpy, clumpy, unappetizing soup.
Step 1
Finely grate the cheese with a cheese grater into a bowl. The more finely it's grated, the more easily it will melt into the soup.
Step 2
Add 1 to 2 tablespoons of flour or cornstarch to the bowl and toss the mixture with a spoon so that the cheese is coated. This will help stabilize the protein patches and fat pockets in the cheese and prevent clumping.
Step 3
Reduce the soup's heat to no higher than medium-low before adding the coated cheese to the soup 1 to 2 tablespoons at a time.
Step 4
Stir the soup gently a few times after adding each tablespoon or two of cheese. Serve the soup immediately after cooking is done.
Tip
Keep stirring to a minimum to avoid pushing cheese proteins back together into clumps.
Warning
Mozzarella and cheddar cheeses do not prove to be good additions to soup due to their stringiness.
Avoid turning up the heat on the soup after adding the cheese, or clumping could occur.