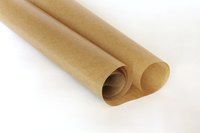 A homemade wax paper stencil can achieve a look comparable to professionally manufactured clothing designs, but for much less money. The stencil is placed on the fabric and secured with an iron. The process works on many types of fabric and allows you to really use your imagination. This joyful afternoon activity is perfect for parents and their children to do together.
Things You'll Need
Wax paper
Pencil
Scissors or craft knife
Fabric
Iron
Ironing board
Brown packaging paper or brown paper bag
Fabric or acrylic paint
Stencil brush
Paper plate
Pull a piece of wax paper from the wax paper roll approximately 12 inches long. Tear the wax paper from the roll.
Place the wax paper on a clean, flat and stable work surface.
Draw the desired stencil design on the surface of the wax paper, leaving a minimum of a 1-inch border. Cut the stencil from the wax paper with scissors or a craft knife. Make sure the cut lines are clean with no jagged edges.
Cut two pieces of brown packaging paper slightly larger than the wax paper. Place one of the brown paper pieces on the surface of the ironing board. This will protect the surface of the ironing board from melted wax.
Place your fabric on the ironing board, with the location you are placing the stencil on flat on the board. Position the wax paper stencil on the desired location, directly on the fabric and over the brown paper.
Cover the wax paper with the second cut piece of brown packaging paper. Set the iron to cotton. Place the hot iron over the top left hand corner section of the brown paper. Hold the iron in place for 15 seconds. Move the iron to the right one iron width. Hold the iron in place for 15 seconds. Repeat the process until the entire sheet is covered.
Allow the paper to cool for 15 seconds. Remove the brown paper. Carefully remove the fabric from the ironing board and place it on a smooth, flat work surface.
Squeeze a quarter-sized drop of the desired paint color on a paper plate. Dab the stencil brush into the paint. Stencil the area on the fabric by starting on the outer edge of the design and work in. Stencil entirely around the outside edge of the design before moving toward the center. Allow the paint to dry for 15 minutes before removing the wax paper stencil.
Peel the wax paper stencil from the fabric. Discard the stencil.