Things You'll Need
4 cups dried pigeon peas

2 cups long-grain rice

Medium onion, chopped

1 bell pepper, chopped

2 cloves of chopped garlic

Chicken or vegetable broth

Cumin

Cayenne pepper

Curry powder

Ginger

Salt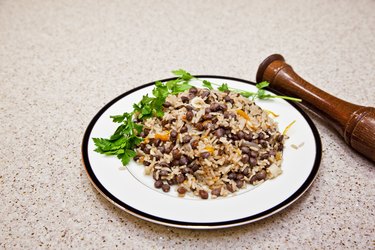 The pigeon pea is not only an edible pea that can be eaten like fresh or dried peas, but it is also rich in nitrogen and helps improve the fertility of your garden soil. The small, round legume is grown in a pod and is often used as an alternative to a lima bean. Although they are frequently used in place of garden peas, they have a higher starch content and are not as sweet. Cooked with rice, pigeon peas can be a side dish or an entree.
Step 1
Look through your dried pigeon peas and throw out any that are shriveled up or have brown spots. Rinse them well before using.
Step 2
Place 4 cups of dried pigeon peas in a large pot over medium heat and cover with 8 cups of water.
Step 3
Cook the beans for 1 1/2 hours or until they are tender. Check the beans every 15 minutes or so and add more water as necessary.
Step 4
Drain your peas in a colander, keeping out about 4 cups of the cooking liquid.
Step 5
Preheat your oven to 350 degrees Fahrenheit.
Step 6
Place 2 tablespoons of vegetable or olive oil in an ovenproof pot and swirl it around so the bottom is coated. Add chopped onions, garlic and peppers to the oil once it is hot.
Step 7
Cook the vegetables for about 10 minutes, letting them get soft but not brown or crispy. Pour a half cup of chicken or vegetable broth in the pot and let cook until the liquid evaporates.
Step 8
Stir in your preferred spices. Cumin, ground coriander, cayenne, curry powder or ginger can all add an interesting flavor.
Step 9
Place 2 cups of rice and the cooked peas into this mixture and stir them around in the spices for several minutes, letting them absorb the flavors. Add the 4 cups of cooking liquid to the mix, a few tablespoons of lemon or lime juice and 1 teaspoon of salt.
Step 10
Cover the pot and place it in the oven for about 25 minutes, or until the rice is completely cooked.