Things You'll Need
Chicken drumsticks

Paper towel

Marinade

Large sealable plastic bag

Tinfoil

Shallow baking dish

Tongs

Oven mitts

Meat thermometer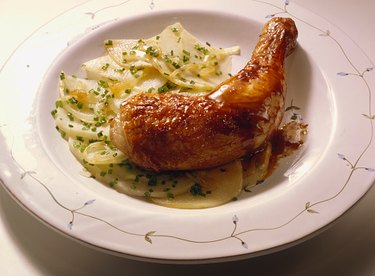 With the advent of the refrigerator and mass production of poultry, people were able to choose the parts of the chicken they wanted to cook. As such, the finger food of chicken drumsticks, known for their moist, dark meat, became popular as a main course at dinner or outdoor barbecues in the middle of the 20th century. While many people do not have a barbecue, using the broil setting in an oven allows you to create a just -off-the-barbecue taste all year round.
Step 1
Rinse the drumsticks under running water.
Step 2
Pat each drumstick dry with the paper towel and place it in the plastic bag.
Step 3
Pour the marinade over the chicken and seal the bag.
Step 4
Place the marinated drumsticks in the fridge and let them sit for 24 hours.
Step 5
Move the top rack of the oven so it is 5 to 6 inches away from the top element.
Step 6
Preheat the oven on its broil setting, or 500 degrees Fahrenheit from the top element.
Step 7
Cover the shallow pan with tinfoil.
Step 8
Place the drumsticks evenly on the tinfoil-covered pan.
Step 9
Insert the drumsticks on to the top rack of the oven. Cook for five minutes.
Step 10
Remove the drumsticks, flip them over and cover them with the remaining marinade left in the bag.
Step 11
Insert them back in to the oven. Cook for another 10 minutes.
Step 12
Rotate the drumsticks again and cook for another 10 minutes or until the meat is crisp, the meat is tender when pierced with a fork, and a meat thermometer inserted into the deepest part of the meat reads 170 degrees Fahrenheit.
Step 13
Remove the drumsticks from the oven and let rest, covered loosely with tinfoil, for five minutes before serving.
Tip
Always broil the drumsticks with the skin on, as this retains moisture in the meat. Discard the skin after cooking, if desired.
A variety of marinades can be used on drumsticks, from Asian to Cajun.
Warning
Never touch the meat thermometer to a bone while taking a reading as this can eschew the results.
Always clean and disinfect the area where you were working with the chicken thoroughly to prevent any bacterial growth.