Things You'll Need
Field guidebook

Berry locations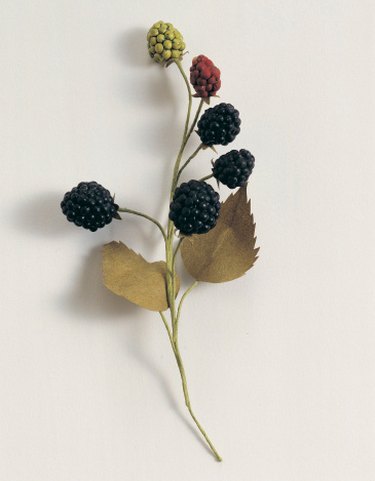 Edible wild berries, like gooseberries, blackberries and mulberries are abundant in Iowa. They can be enjoyed raw or made into jams, preserves and pies. Collecting berries provides fun, exercise and outdoor time for the entire family.
Identifying Iowa's Wild Berries
Step 1
Obtain a field guide to edible plants from a reputable source. The University of Iowa cooperative extension service offers two useful guides free online: "Iowa's Plants: Iowa's Shrubs and Vines," and "Iowa's Fruit, Nuts and Seeds."
Printed copies of the booklets can be ordered for $1 each by requesting publication IAN-307 and IAN-305 from ISU Extension Service, Printing and Publications Building, Iowa State University, Ames, Iowa, 50011.
The Iowa Association of Naturalists recommends the book "Wild Edible Fruits and Berries," by Marjorie Furlong and Virginia Pill. This book is comprehensive and includes color photos. It is available from your local library or online from the ISU Extension Service.
Step 2
Locate berry-producing plants. Wild edible berries grow along roadways and railroad tracks, in empty lots and in wooded areas. Contact your local cooperative extension office for information on where you can safely and legally find and collect berries in your area. A directory for Iowa's extension offices can be found online.
Step 3
Prepare for berry picking. Wear jeans and bring a long sleeved shirt of jacket to protect legs and arms from thorns. Wear a cap to avoid exposure to ticks. Apply sunscreen or insect repellent, if needed. Carry drinking water with you. Bring a plastic bucket or other solid container for the berries.
Step 4
Identify the berry by comparing the actual plant to the drawings or photos in the guide. Start by comparing the color, shape and size of the berries. Examine the shape, color and size of the leaves, top and bottom. Consider the overall plant. Does it match the height and shape described in the guide? Is it a vine, shrub or tree? Look at the texture and color of the stem and trunk of the plant and compare it to the description. Is it thorny or smooth? Is this the correct season for this berry?
Step 5
Rule out poisonous plants. There are poisonous berry plants that resemble edible ones. These are often listed in the guidebook. For example, poisonous moonseed may resemble edible wild grapes. Make sure you understand the differences between the edible and poisonous plants. If you have any doubt, take a clipping, including leaves, berries and stem, to your local cooperative extension office for identification. Do not collect any berries until you are sure of the plant's identity.
Tip
Don't use plastic bags for berry picking, the crush the berries and may leak juice.
Warning
Learn to identify poison ivy before heading out to pick berries. Contact with poison ivy may result in an unpleasant skin rash.