A crown roast consists of a side of ribs arranged and baked in a circle for the sake of presentation. While crown roasts are most commonly made with pork, you can cook a beef crown roast as well. Beef crown roasts work well as centerpieces for large dinners or lunch gatherings and produce tender, flavorful meat. Allow for at least two hours and 45 minutes of preparation and cooking time before you plan to serve your crown roast.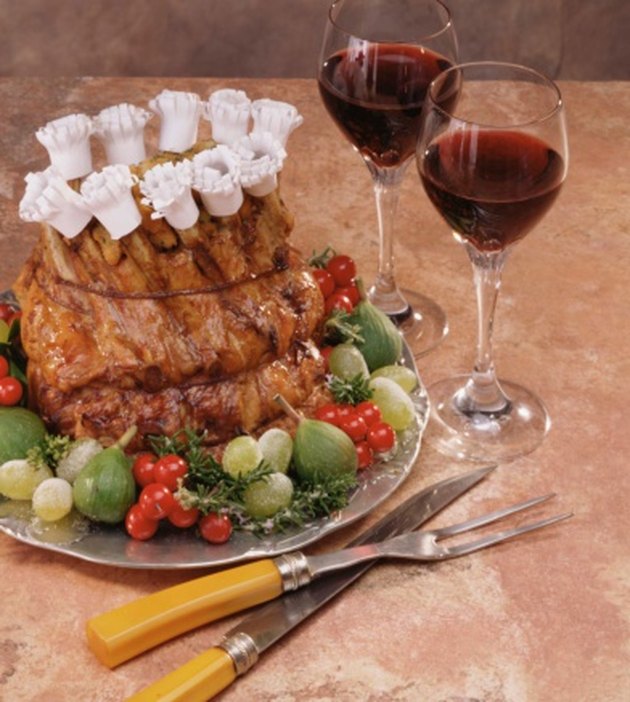 Things You'll Need
1/2 cup chopped thyme leaves

1/4 cup chopped fresh sage

2 tbsp. minced garlic

1 tsp. salt

1 tsp. ground black pepper

1 cup olive oil

Small mixing bowl

Spoon

10 lb. beef rib roast

Sharp knife

Roasting pan

Cooking twine

Assistant (optional)

Aluminum foil

Meat thermometer
Step 1
Preheat an oven to 375 degrees Fahrenheit.
Step 2
Combine the chopped thyme leaves, chopped fresh sage, minced garlic, salt, ground black pepper and olive oil in a small mixing bowl. Stir with a spoon to blend the herb mixture.
Step 3
Clean a one-inch section down from the exposed tips of the bones of a 10-pound beef rib roast. Use a sharp knife to remove all of the meat and tissue from the tips of the bones. Make a 1/4-inch-deep vertical incision down the meat between each rib to allow the roast to wrap into a circle.
Step 4
Rub the herb mixture over the beef roast, covering its exterior.
Step 5
Bring the ends of the roast together, forming a circle, and tie with a string of cooking twine. This may take several attempts to tie the roast to hold a circular shape if you are working by yourself. Ask an assistant for help if possible.
Step 6
Place the tied roast into a roasting pan and cover with aluminum foil. Bake for two and a half hours, or until the meat near the bone reads 145 degrees Fahrenheit.
Tip
To season the meat further, fill the center of the crown roast with prepared garlic-seasoned stuffing before baking it in the oven.