Things You'll Need
Sharp knife

Butter

Salt

Pepper

Aluminum foil

Scallions

Roasting rack

Casserole dish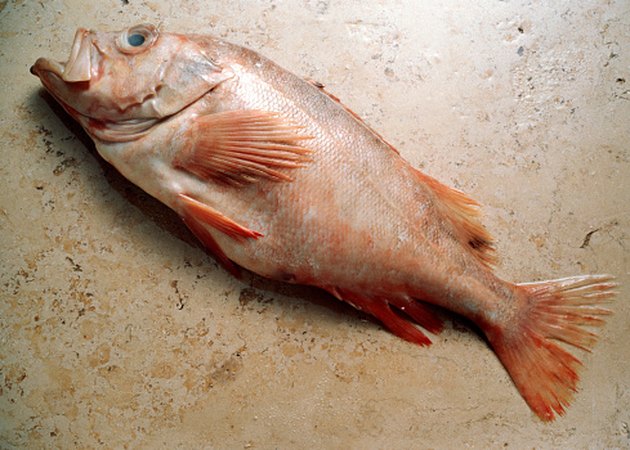 Ocean perch, whether from the Atlantic or Pacific Ocean, is not a true perch. It is a red-skinned rockfish that swims in large schools deep underwater. Only one type of rockfish or ocean perch swims the Atlantic Ocean, while nearly 60 types populate the Pacific. Ocean perch is a white-meat fish usually available frozen whole or in fillets. Oven-steaming ocean perch helps retain its moist texture and delicate flavor.
Step 1
Remove ocean perch from ice or defrost from freezer. Preheat the oven to 450 degrees Fahrenheit.
Step 2
Trim fish fins with a sharp knife, if fins are intact. Leave the perch skin on the fish.
Step 3
Score the fish three times on both sides with a sharp knife. This ensures even cooking.
Step 4
Dip the fish or fillets in melted butter. Lay each piece in a square of aluminum foil.
Step 5
Sprinkle lightly with salt and pepper. Scatter about 1 tbsp. of scallions on the fish.
Step 6
Wrap the foil around the ocean perch. Puncture each wrap three times with a fork. Place the wrapped ocean perch on a roasting rack that's large enough to cover a large casserole dish.
Step 7
Add 2 inches of boiling water to a casserole dish. Place the rack atop the casserole dish. Arrange the fish pieces so they are all above the steaming water.
Step 8
Oven-steam the ocean perch for steam minutes in the preheated oven. Turn each wrapped package and steam for an additional seven minutes.
Step 9
Unwrap the perch. Flesh should be moist and flaky. Serve hot.
Tip
If you're not able to cook your ocean perch immediately after defrosting, wrap the fish in plastic and keep it in a bowl of ice in the refrigerator. Use thawed fish within two days.