Things You'll Need
Cloth tape measure

Leather

Chalk

Scissors

Leather punch

String

Pen and paper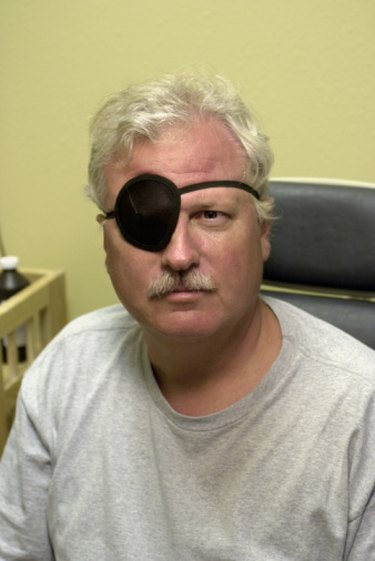 Eye patches serve a wide variety of purposes. Many people wear them to hide a bad eye. Other people wear them to keep light out of an over-sensitive eye. Others use eye patches simply as an addition to a pirate costume. Creating a leather eye patch provides a high-quality eye patch. This patch blocks out the light well. It also looks very authentic for a pirate costume.
Step 1
Use a tape measure to measure from the top of the eyebrow to the upper part of the cheekbone. Begin the second measurement at the bridge of your nose and wrap around to the other side of your eye. Write these measurements down on a piece of paper.
Step 2
Utilize chalk to draw the eye patch shape on the leather. Use your measurements as a guide to ensure your patch is the correct height and width.
Step 3
Test your scissors by cutting into the leather. Sharpen them if necessary. Cut along the chalk lines and remove the patch from the surrounding leather.
Step 4
Pick a shape for the eye patch. Flat eye patches can fit under glasses but give no room between your eye and the patch. Curved patches can't be worn under glasses but give your eye more space. Slightly bend the eye patch with your fingers to create the curved eye patch shape.
Step 5
Wrap the cloth tape measure around your head starting in the middle of your forehead just above the ear. Pull the string around your head in a diagonal direction starting at your eye. Take this length and subtract the width of your eye patch.
Step 6
Use your leather punch and punch holes in opposite sides of your patch. Thread your strings through these holes and tie them tightly into place. Keep one of the side knots slightly loose.
Step 7
Place the eye patch over your head. It should fit over your head easily but snugly. If it is too loose, untie the loose knot and cut off the string. Refit it until it fits right. If it is too short, remove the string completely and cut a slightly longer string. Repeat this process until it fits perfectly.