Things You'll Need
Plastic container (with lid)

Permanent marker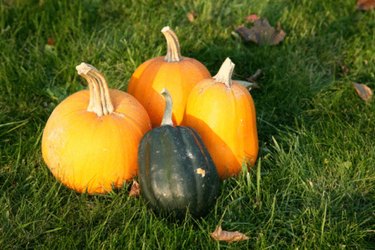 Pumpkin puree, a smooth and flavorful mixture of pure pumpkin, provides the foundation for many delightful desserts. From pies and tarts to muffins and quick breads, pumpkin puree makes these sweet treats delicious. Whether you make your own pumpkin puree or you purchase it canned from the supermarket, store pumpkin puree left over from your baking tasks. With proper storage preparation, pumpkin puree will stay fresh until you need it.
Step 1
Place the pumpkin puree into the plastic container, filling it to within 1 inch of the top.
Step 2
Cover the container tightly.
Step 3
Store the container of pumpkin puree in the refrigerator for one week. Alternatively, freeze the pumpkin puree for as long as three months.
Tip
Label the container with the date and contents before freezing to ensure you can identify the pumpkin puree in the freezer.