Things You'll Need
Vegetable brush

8 limes

Paper towels

Vegetable peeler

Large bottle with cap; at least 1 qt.

1 750-ml bottle of vodka (25.36 oz.)

2 cups sugar

2 cups water

Strainer

Cheesecloth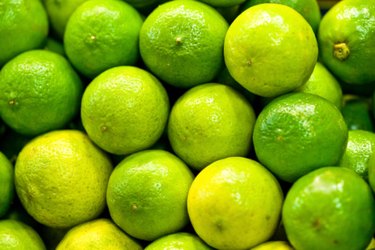 You can infuse vodka with a variety of ingredients, mostly fruit, and limes work nicely to make a lime liquor. The lime liquor makes a nice after-dinner drink, or adds lime flavor to other drink concoctions. Try adding lemon zest in the recipe for a lemon-lime liquor, or simply substitute the lemon for lime to make a Limoncello. Start your liquor with any type of vodka; this is one instance when it is not necessary to use a good brand-name vodka, as the final product will taste the same no matter what you use.
Step 1
Scrub eight limes with a vegetable brush to remove dirt, germs and pesticides. Dry well with paper towels.
Step 2
Peel the outer layer of the skin from all the limes. Leave the white pith on the lime. The pith will make the liquor bitter and should not be used. Place the peels into an empty bottle.
Step 3
Pour the vodka into the bottle over the lime peels, using a funnel to avoid possible spills. Place the cap on the bottle.
Step 4
Place the lime liquor bottle in a spot where it can stay for about four weeks without being disturbed. The vodka will take on the flavor of the lime and will turn a slight yellow color, much like Limoncello.
Step 5
Bring 2 cups of water and 2 cups of sugar to a boil over medium-high heat. Stir the sugar until it dissolves. Pour this simple syrup into the bottle with the lime liquor and let it sit for another four weeks.
Step 6
Strain the lime peels out of the lime liquor using a strainer and cheesecloth. Your liquor is now ready to drink. Keep it in the refrigerator for optimum flavor.
Tip
Wrap a ribbon around a pretty, decorative bottle and give the lime liquor as a gift.