Things You'll Need
Sausage casings

Meat

Spices

Funnel with wide opening

Scissors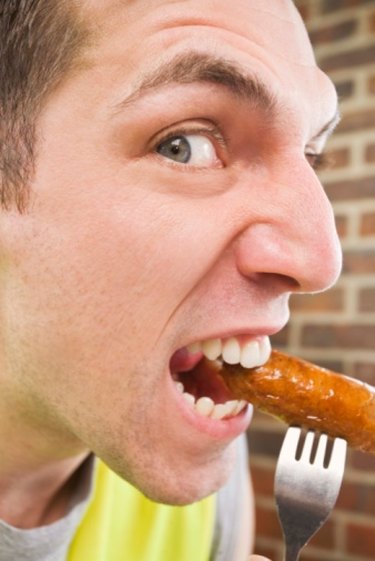 Making your own sausage is a rewarding and educational activity, providing you and your family with a fresh meat product. If you are not ready for the investment of a mechanical sausage stuffer, make links anyway with the use of a simple funnel. Before mixing up your meat and spices, make several different recipes, fry them up and taste them.
Step 1
Mix up your sausage mixture according to the recipe you like.
Step 2
Soak the casings for about 1 hour in warm water so they become soft and pliable.
Step 3
Lay the casings on a towel to drain when they are done soaking.
Step 4
Tie a knot at one end of the casing and cut it off at the length you choose. If you are working by hand, only filling enough casing for several sausages at a time is easier than trying to fill a whole length of casing at once.
Step 5
Pull one end of the casing over the tube end of your casing funnel and gather it up until just a few inches hang off the end.
Step 6
Pack your sausage mixture into the funnel and push it gently into the casing. It is good idea to have a partner either push the sausage or hold the casing.
Step 7
Fill the casing, but don't over fill it or it will burst open. Use your fingers to work the meat mixture into air pockets if you have any.
Step 8
Continue to fill the casing until you reach 3 inches from the end of the casing.
Step 9
Tie off the end of the casing. Create your links by deciding how long you want each link, then measure that long between links and twist the casing several times between each link. Alternate the direction in which you twist each link so the casing stays secure.
Step 10
Cook or store your sausage as needed.