Things You'll Need
Steel Brush

Sandpaper

Wood filler

Primer

Fiber towels

Paintbrushes

Paint

Paste wax

Wood stain

Rags

Steel wool, sandpaper or screwdriver

Clear protective sealant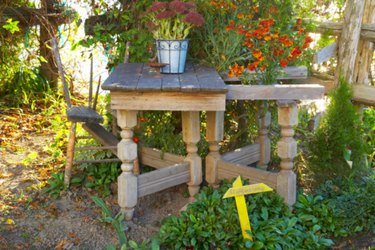 There is something charming about a piece of wooden furniture that looks worn. If you love the rustic look on furniture, you are not alone. Many people use faux painting techniques to transform inexpensive pieces of furniture into wooden heirlooms. Although rustic furniture can be found at flea markets, distressing your own pieces isn't as difficult as you think. Give wooden furniture a worn shabby chic look with a few distressing techniques.
Step 1
Wipe away any dirt or debris with a damp rag. Use a wire brush to remove dirt if necessary.
Step 2
Sand the item with 220-grit sandpaper to smooth any surface irregularities. Use a fiber towel to dust off the sanding debris.
Step 3
Use a brush to apply a coat of primer to the furniture piece in the direction of the wood grain. Let the primer dry.
Step 4
Sand gently using 220-grit sandpaper. Dust debris with a fiber towel.
Step 5
Apply a coat of interior latex paint with a paintbrush. This coat of paint will show through once you have distressed the piece. Let it dry.
Step 6
Apply another coat of latex paint in a different color if you desire. This second layer also will peek through. A second coat will give the impression the furniture has been painted several times in the past.
Step 7
Apply paste wax to the piece with a dry rag. If you don't want to give the entire piece a worn look, just apply it to areas that you want to distress. Allow the wax to set for an hour. Do not remove the wax by buffing.
Step 8
Apply a wood stain over the paste wax, going in the direction of the grain of wood, using a dry rag. Let it dry for an hour or two. Use a wax that complements your furniture décor.
Step 9
Use tools such as steel wool or sandpaper to remove paint from areas on the furniture. Distress the areas that get the most wear and tear, such as the corners, legs, around the edges of arms on chairs and around handles or knobs.
Step 10
Apply a clear protective sealant to the furniture.