Things You'll Need
Two thawed, boneless and skinless chicken breasts

4 tbsp. olive oil

1 tbsp. ground black pepper

1 tsp. salt

Small bowl

Baking pan

Metal tongs

1/2 cup dry white wine

Meat thermometer

Plate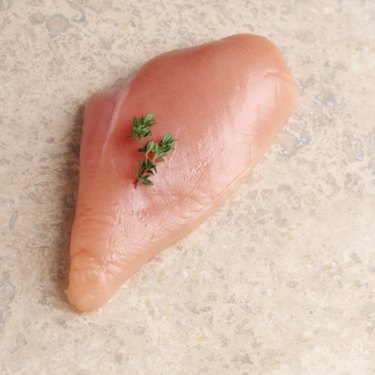 The breast is the largest cut of meat taken from a chicken. While many are sold bone-in, boneless chicken breasts are generally more convenient to cook and eat. There are several methods of cooking chicken breast; one of the simplest is broiling. Broiled chicken breast has a crisp, brown exterior with juicy and flavorful meat. To broil boneless chicken breasts, you will need approximately half an hour.
Step 1
Preheat a broiler. If the broiler has adjustable racks, move them 8 inches away from the heat before preheating.
Step 2
Mix 4 tbsp. olive oil, 1 tbsp. ground black pepper and 1 tsp. salt in a small bowl with your fingers. Rub the mixture evenly over the chicken breasts.
Step 3
Place the seasoned chicken breasts into a baking pan and broil for 8 minutes. Flip the chicken breasts with a pair of metal tongs and broil for an additional 5 minutes.
Step 4
Pour 1/2 cup dry white wine into the baking pan and continue broiling for 4 more minutes.
Step 5
Remove the baking pan from the oven and insert a meat thermometer into each chicken breast at its thickest point. If it does not read at least 160 degrees Fahrenheit, place the chicken back into the broiler for 2-minute increments until done.
Step 6
Place the cooked chicken onto a plate and leave the meat to rest for 5 minutes before serving.
Tip
For best results, thaw chicken breasts in the refrigerator.