Things You'll Need
Stale cheese curls

Paper towel

Plate

Baking sheet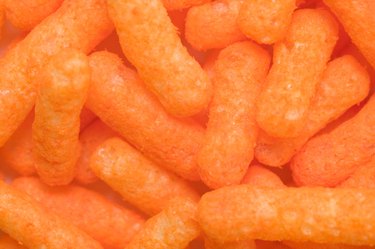 Cheese curls and other snack foods are crunchy because they are very dry. This state can be difficult to maintain. If you leave an open bag of cheese curls out or do not seal it properly, moisture in the air can get into the bag and change the composition of the chips. As the chips soak up moisture from the air, they get stale or lose their crunch. If you accidentally left your cheese curls out overnight and find that they have lost their crunch, it is easy to revive your snack.
In the Microwave
Step 1
Lay a piece of paper towel over a microwavable plate.
Step 2
Place your stale cheese curls on the paper towel. Put the plate in the microwave.
Step 3
Microwave on high for 30 seconds, remove the plate from the microwave and allow the cheese curls to cool off.
In the Oven
Step 1
Preheat the oven or toaster oven to 375 degrees Fahrenheit.
Step 2
Spread your cheese curls out on a baking sheet.
Step 3
Bake in the oven for 3-5 minutes, watching closely to prevent the cheese curls from burning.