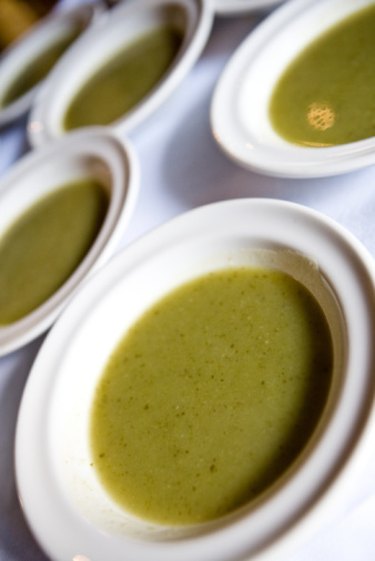 Soup is one of the easiest foods to make in large batches, making it a convenient meal for a person who might not have time to cook dinner every night. However, it is sometimes difficult to eat all that soup before it goes bad, and many plastic containers contain harmful chemicals that may leach out in the freezer or microwave. For these reasons, freezing soup in mason jars is one of the safest ways to store leftover soup for later consumption.
Step 1
Wash the mason jars well with hot water and dish soap; allow them to dry.
Step 2
Allow soup to cool until it is lukewarm or room temperature.
Step 3
Ladle soup into a mason jar. Leave 1 to 2 inches of space between the soup and the rim of the jar.
Step 4
Screw the lid onto the jar loosely.
Step 5
Place the soup-filled mason jars in the refrigerator until the soup and jar are cold.
Step 6
Screw lids tightly onto jars.
Step 7
Place jars in the freezer.
Tip
Mason jars are also great for reheating soup in the microwave -- just be sure to remove the lid first.
Warning
Be sure to leave sufficient space at the top of the jar -- liquid expands when it freezes and the glass may break if the jar is too full.