Things You'll Need
Roasting pan

Small saucepan

1/2-cup honey

1/2-cup brown sugar

1/4-tsp. ground cinnamon

1-tbsp. orange juice

Pastry brush

Food thermometer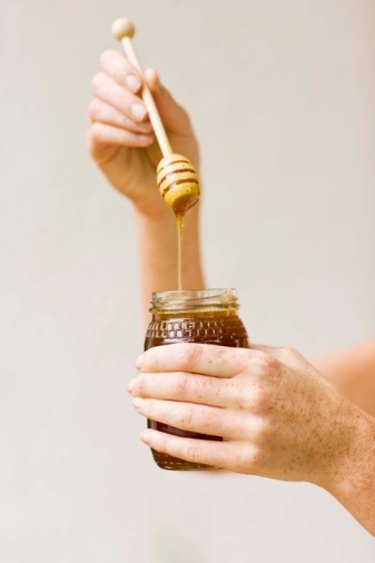 If you like sweet-tasting baked ham, coat it with a honey glaze before cooking it. The glaze will caramelize as it bakes, giving the ham a sweet coating. Make your own honey glaze so you can customize it to your tastes. Experiment with a variety of ingredients, such as mustard or cinnamon, until you create a glaze that you and your family love. Honey-glazed baked hams make tasty holiday dinner main courses, and you can enjoy the leftovers for several days after the event.
Step 1
Preheat your oven to 325-degrees Fahrenheit. Set the fully cooked bone-in ham on a roasting pan rack fat-side up. Cook the ham uncovered for two hours.
Step 2
Create a ham glaze by blending a 1/2-cup of honey, 1/2-cup of brown sugar, 1/4-tsp. of ground cinnamon and 1-tbsp. of orange juice in a small saucepan. Turn the heat to "medium-high" and bring the mixture to a boil, stirring constantly. Remove the pan from the heat.
Step 3
Remove the ham from the oven and cover it with half of the honey glaze. Use a pastry brush to spread the glaze evenly over the ham. If the ham is pre-sliced, be sure to spread the glaze into the cuts as well. Continue baking the ham for 30 minutes.
Step 4
Remove the ham from the oven and brush it with the remaining honey glaze. Bake the ham for another 30 minutes, or until its internal temperature registers 140-degrees Fahrenheit on a food thermometer.