Things You'll Need
Paper

Calligraphy pens

Sealing wax

Stamp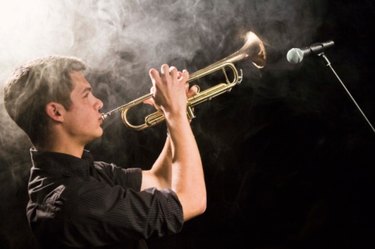 Writing a letter for a musical performance gives you the opportunity to highlight your abilities and enable those attending the performance to know what to expect. The type of performance will help you decide on paper choice and script styles. Dress up the letter with pictures and borders to add visual interest to your letter. Make it personal and exhibit your passion for the art and it will certainly grab the reader's attention.
Step 1
Pick your paper type. A homemade or parchment paper adds texture and interest to your invitation.
Step 2
Use calligraphy pens to write the heading. Include the title of the performance and the type of instrument used.
Step 3
Write details about the performance in a flowing script. Include the musical style, the set list and any interesting styles or techniques that set the performance apart from other performances. Include the theme if there is one.
Step 4
Use calligraphy pens to write the technical details. Include the time, day and date of the performance, the location and ticket or RSVP information.
Step 5
Fold the paper in threes and seal with sealing wax by melting a small amount of the wax over the paper. Stamp with a musical instrument stamp.
Tip
Write in a clear hand and take care to make the letter legible.
You can also do the invitation on your home computer by using a word processing program.