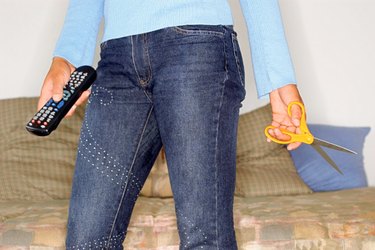 The GeMagic is a tool that helps you decorate fabric and leather with studs and rhinestones. Be it jeans, T-shirts, drapes or boots, you can use the GeMagic to customize them by adding your own designs made of stones, gems and rhinestones. With the sample design templates that come with the product, GeMagic is simple to operate.
Step 1
Select the item you want to use the GeMagic tool on. Mark rough sketches of the pattern you want to design on a piece of paper. Transfer the design onto the clothing using the fabric pencil.
Step 2
Select the type of gems you want to use for the design.
Step 3
Set up the GeMagic tool by inserting the corresponding plunger into the top insert. Twist to securely and lock it. Select the appropriate base size based on the plunger size by rotating it.
Step 4
Take one of the gems or studs and insert it onto the round stud-placement tool. Transfer the stud into the hole at the end of the plunger.
Step 5
Raise the top-handle of the GeMagic tool and place your item underneath it. Plunge the plunger down gently onto the first pencil mark of your design until you hear a "click" sound.
Step 6
Put another gem or stud in the GeMagic and place it in your design. Repeat until you cover the outline of your pattern with your selected studs or rhinestones.