Classic baked beans make a hearty, sweet or savory side dish to go alongside barbecued hot dogs and burgers at a company picnic, family reunion or any large social gathering. Aside from economical aspects of this dish, baked beans require little preparation time and can be made ahead of time to save room on the day of the event for other tasks. When cooking for a crowd, planning remains the most crucial aspect of preparing the meal.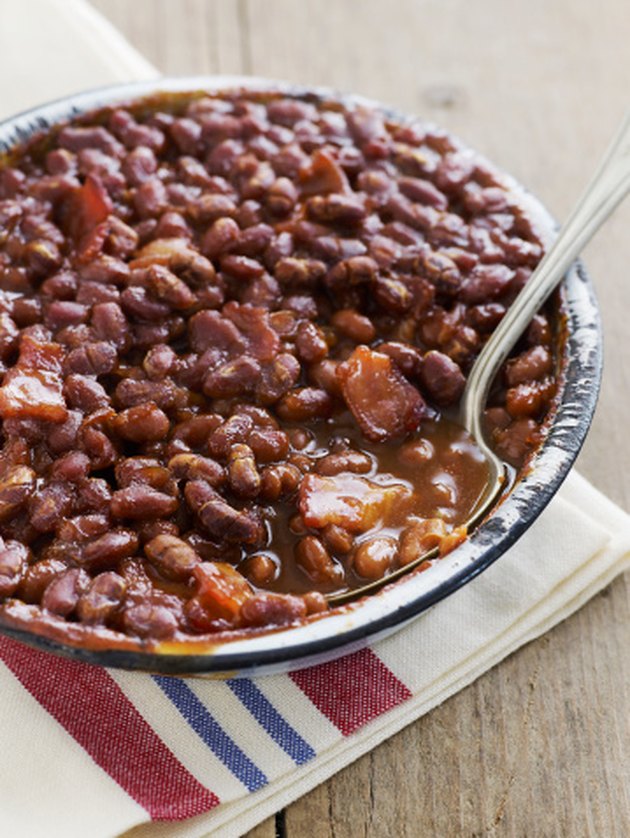 Things You'll Need
Northern or navy beans

Bacon (optional)

Molasses

Brown sugar

Dry mustard

Salt and pepper

Stock pot

Colander

Casserole dishes

Aluminum foil
Step 1
Count the number of guests expected to determine the amount of baked beans needed. Serving sizes may vary, but assuming each guest will eat 1/2 cup of beans, a cook needs to prepare 10 cups (2 1/2 qt.) for 20 people, 25 cups (1 1/2 gal.) for 50 people and up to 50 cups (3 gal.) for a crowd of 100.
Step 2
Purchase the amount of beans necessary. Northern white beans or navy beans are the standard in baked bean recipes, but some cooks like to combine kidney or black beans as well. When purchasing dried beans, factor preparation time, including overnight soaking and extra cooking, into the process. For 20 people, buy about 3 1/2 lbs. of dry beans or 8 cans of navy or northern beans. For a crowd of 50 people, buy 8 lbs. of dry beans or 16 cans. An industrial size can, called a No. 10, holds about 25 servings per can, and are available for purchase at restaurant supply stores or ordered specially through your supermarket manager.
Step 3
Soak the dry beans overnight in cool water. Rinse and drain well before cooking in a large stock pot of salted water until fork tender, about 90 minutes to 2 hours depending on the amount of beans. When cooking, leave at least 1 inch of water above the beans to prevent the water from boiling away.
Step 4
Drain the cooked beans in a colander and place in a bowl. Add the other ingredients to taste. Many baked bean recipes call for pork and molasses to take a primary role in the taste along with brown sugar and dry mustard. A baked bean recipe for 20 people may include a combination of 1/2 lb. of salt pork or bacon along with 1 cup of molasses, 1/2 cup of brown sugar and 1 tsp. of dry mustard. A recipe for 50 may call for 1 1/2 lbs. of salt pork, 2 1/2 cups of molasses, 1 1/2 cup of brown sugar and 1 1/2 tsp of dry mustard. Prepare beans without salt pork or bacon if your crowd includes a number of non-meat eaters, or make two separate dishes to satisfy both groups.
Step 5
Spice the beans with additional seasonings for more flavor. Other recipes may include paprika, chili powder or cumin. For a smaller crowd of 20, mix 1 to 2 tsp. of your preferred ingredient into the bowl until it reaches the taste capacity you are looking for. For 50 people, start with 2 to 3 tsp. until the flavor fits your ideal. When using hot spices, such as chili powder, always start with a small amount and let the mixture sit for 15 minutes before tasting so the heat has a chance to absorb. Spice can always be added, but it's much more difficult to take it away.
Step 6
Add sauces such as tomato, barbecue or Worcestershire sauce for additional flavoring. These sauces are not necessary but can allow your beans to stand apart from other dishes. Stir in 1/4 cup for a batch for 20 and 1/2 to 3/4 cup for a recipe for 50 people.
Step 7
Pour the seasoned beans into casserole dishes and bake, uncovered, in a 350 degree Fahrenheit oven for 1 hour to 90 minutes, or until the sauce has thickened. Remove the beans from the oven and serve immediately. Alternatively, cool the beans down and place in the refrigerator for serving the next day. Cover the pan with foil and reheat in a 350 degree oven until warmed through. Add a little water to the beans and cover if they have dried out in the refrigerator.
Tip
Bulk the beans out with slices of hot dogs if you need to extend the dish to feed more people at the last minute.