Things You'll Need
5-quart pot

1 tbsp. sea salt per pound of bow tie pasta

Long-handled spoon

Colander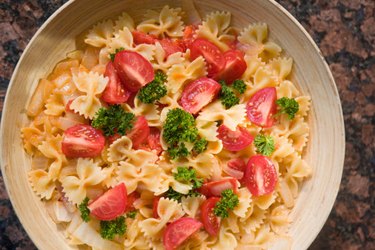 When you're looking for eye-catching noodles to prepare your favorite Italian dish with, choose bow tie, or farfalle, pasta. The whimsical, butterfly-shaped pasta feature pinched centers and decorative zig-zag edges. Bow tie pasta is available in plain and specialty flavors, such as spinach and tomato, so choose the type that best fits your recipe needs. Be careful not to overcook bow tie pasta, or it will become too soft. You can use bow tie pasta in cold and hot pasta salads or mixed with marinara or cream sauces.
Step 1
Fill a 5-quart pot 3/4 full with cold water when cooking a pound of bow tie pasta, or use 1 quart of water for every 4 ounces of pasta. Use filtered water if possible for the best results.
Step 2
Bring the water to a rolling boil over high heat. Add 1 tbsp. of sea salt per pound of pasta to the boiling water.
Step 3
Pour the bow tie pasta into the salted, boiling water. Stir the pasta with a long-handled spoon to prevent it from sticking to the pan.
Step 4
Cook the pasta for 8 to 12 minutes after the water returns to a boil, stirring frequently. Test the pasta beginning at 8 minutes to see if it is tender and slightly firm or "al dente."
Step 5
Drain the pasta in a colander over a sink immediately after it is done; pasta can continue to cook in hot water, resulting in a mushy texture. Place the drained pasta back into the pot or into a serving bowl. Pour sauce over hot noodles or allow the noodles to cool before making a pasta salad.
Warning
Don't add oil to the boiling water, as it will make it difficult for sauces to adhere to the pasta.