Things You'll Need
1 lb. boneless chicken breasts

Shallow baking dish (with lid)

Salt and pepper

Meat thermometer

Cutting board

Chef's knife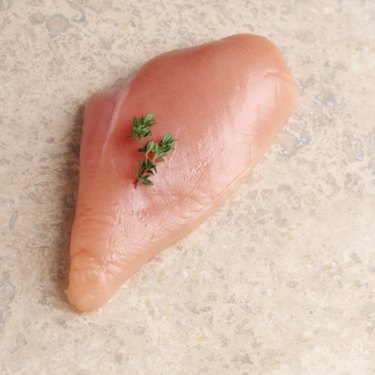 When you wish to add chicken to a casserole, often a recipe calls for cooked chicken. This means you must cook the chicken first before assembling the casserole ingredients. The USDA Food Safety and Inspection Service recommends cooking chicken until it has an internal temperature of at least 165 degrees Fahrenheit. After thoroughly cooking the chicken breasts, prepare the casserole according to your recipe.
Step 1
Preheat the oven to 350 degrees Fahrenheit.
Step 2
Place the chicken breasts in a single layer in the baking dish. Sprinkle salt and pepper to taste over the chicken.
Step 3
Cover the baking dish and place it into the oven.
Step 4
Bake the chicken for about 20 to 30 minutes.
Step 5
Check the temperature of the chicken with the meat thermometer. Insert the tip of the thermometer into the thickest portion of the largest breast. If the temperature is at least 165 degrees Fahrenheit, remove the chicken from the oven. If the temperature is under the minimum, continue cooking the chicken until it reaches 165 degrees Fahrenheit.
Step 6
Remove the baking dish from the oven. Take off the lid and allow the chicken to cool to a temperature where you can handle it easily.
Step 7
Transfer the chicken breasts to the cutting board after they cool. Cut the chicken up into bite-size pieces -- about 1-inch pieces.
Step 8
Add the chicken to the casserole with the other ingredients.