Things You'll Need
Tri-fold display board, any size

Photographs

Scrapbook paper

Scissors

Scrapbook lettering

Stickers

Foam cutouts

Glue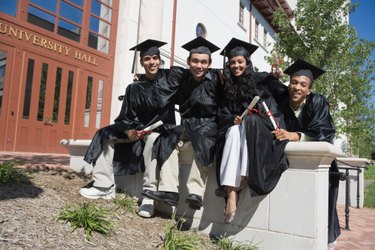 A photo board is a creative way to celebrate a graduation. Display the board at a graduation party, or get together so everyone can recognize the accomplishments of the graduate. You can customize the photo board however you like depending on the graduate, school colors and lettering. Make sure to start your board in advance so you can include all of your favorite photos. It would be a great project for Mom and her graduate to do together.
Step 1
Choose how you want to set up your photo board. Since it is a tri-fold board, you can break the board down into three separate categories. The left side can be childhood photographs, the middle can be special events and memories, and the last fold can be senior year photos.
Step 2
Glue scrapbook paper to the board, using either the same color and pattern or different colors on each fold. Cut the paper to fit each section of the board. This backdrop will liven up the board so it won't look so plain.
Step 3
Mat your photos. The photos can be matted on scrapbook paper. The mats should be about 1/2 inch to an inch larger than the photographs. Glue the photos to the mats.
Step 4
Arrange your photos on the board and glue them into place before you add your other decorations. The photos are the most important element, so placing them first will give you an idea of how you want to decorate your photo board.
Step 5
Add lettering to the board using scrapbook stickers or foam cutout letters. The graduate's name and year of graduation, or the school mascot name, can go at the top of the middle fold. Add lettering for categories such as "Senior Memories," "Childhood Fun," and "Special Events."
Step 6
Decorate the board by gluing on foam cutouts or using scrapbook stickers. Go with a theme, such as diplomas and graduation caps, or express the graduate's interests by using ballet shoes for a dancer, footballs and helmets for a football player, or tragedy and comedy masks for an actor. Embellish the board as you desire.
Step 7
Allow the glue to completely dry, then get ready to display your graduation board.
Tip
Save room on the last panel for last-minute photos, such as the prom or any other end-of-the-year activities.