Things You'll Need
1 to 1 1/2 lbs. pollock

1 cup flour

2 tbsp. seasoning salt

2 tbsp. garlic powder

2 tbsp. black pepper

Bowl

Water

Plate

2 tbsp. butter

2 tbsp. oil

Skillet

Cookie sheet

Cooking oil spray

Melted butter

Salt

1/2 cup cornmeal

1/2 cup flour

1 tbsp. cayenne pepper

Tongs

Paper towels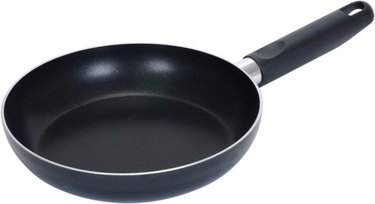 Properly prepared pollock can be appealing to both fish lovers and those who don't really care for the taste of most fish, because pollock has a mild flavor and low fat content. There are two types of pollock: Atlantic, which is also known as Alaskan, and Pacific. The biggest difference between the two types of fish is that Pacific pollock is more delicate than Atlantic pollock. Pollock has a white to off-white-colored flesh. It's often sauteed, broiled or fried.
Saute
Step 1
Mix 1 cup flour with 2 tbsp. seasoning salt, garlic powder and black pepper.
Step 2
Rinse 1 to 1 1/2 lbs. pollock under cool water.
Step 3
Coat each piece of fish with the seasoned flour and set aside on a plate.
Step 4
Place 2 tbsp. butter and 2 tbsp. oil in a skillet. Turn the heat to medium. Push the butter around the skillet until it melts and blends with the oil.
Step 5
Add a couple of pollock fillets to the hot skillet and adjust the heat to high. Let the fish brown for about three minutes before flipping over and browning the opposite side for three minutes.
Step 6
Remove the fish from the pan and place it on a plate. Add oil and butter as needed to the skillet before adding another batch of raw pollock. Repeat Steps 5 and 6 as necessary until all the fish has been cooked.
Broil
Step 1
Preheat the broiler for 15 minutes before placing fish inside it.
Step 2
Spray cooking oil on a cookie sheet to lightly oil the pan and prevent the pollock from sticking.
Step 3
Rinse the pollock in cool water. Hold the fish while the excess water falls off, then place each piece of fish on the oiled cookie sheet.
Step 4
Rub both sides of the fish with melted butter. Season both sides of the meat with salt and black pepper.
Step 5
Place the cookie sheet in the oven and broil for about four minutes or until the exterior of the fish is opaque.
Fry
Step 1
Pour vegetable or canola oil into a fry pot until it is about two inches deep. Place it on the stove top and turn the heat to medium.
Step 2
Mix 1/2 cup cornmeal with 1/2 cup flour, 1 tbsp. cayenne pepper and 2 tbsp. salt in a bowl.
Step 3
Rinse the pollock with water. Coat the pollock with the seasoned cornmeal mixture.
Step 4
Place the coated fish, one at a time, into the oil when it reaches 375 degrees Fahrenheit. Adjust the heat to high to prevent the oil temperature from dropping as you add more fish to the pot.
Step 5
Remove the pollock from the oil when it is a brown color. Place the cooked fish on paper towels to remove some of the excess oil. Deep-fried fish does not take long to cook.