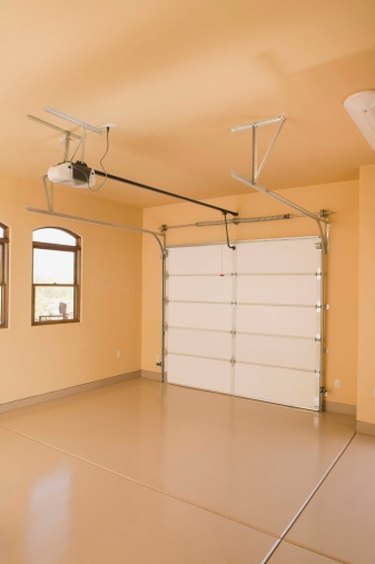 Craftsman 1/2-horsepower garage door openers are shipped with a fixed cord that can be plugged directly into an available grounded household outlet. Sometimes, local building codes require the door opener to be hardwired, in which case you can easily remove the cord and make the connections. Other wiring involved in a door installation includes connecting the infrared safety reversing sensors as well as the interior control panel.
Step 1
Remove the permanent cord from the motor by taking off the motor cover and unscrewing the terminal screws that hold the cord in place. Pull the hardwiring through the hole in the top of the motor and connect the wires. The live black wire connects to the screw on the brass terminal, the white neutral wire connects to the silver terminal screw and the green ground wire connects to the ground terminal. Reattach the cover.
Step 2
Run the safety sensor wiring by running the bell wires from both of the sensors -- located on each side of the door about 4 inches above the ground -- to the rail at the door header. Staple them in place. Cross and twist the wires where they meet, and run the wires in the channels to the motor. Use the top of the channels; the lower channels are for the trolley. Pull the wires into the low-voltage terminal block.
Step 3
Run the two bell wires from the interior control to the terminal block.
Step 4
Attach the color-coded wires to the color-coded terminals in order to connect the safety sensors and the interior control. Connect the white/red wire to the red terminal, the white wire to the white terminal, and so on, matching the wires with the terminals.