Things You'll Need
Grill

2 8-oz sirloin tip steaks, cut 1-inch thick

1 tbsp. ground ancho chili powder

1 tsp. finely grated orange zest

3 minced cloves garlic

1 tsp. cocoa powder for baking

1 1/2 tsp. dried oregano

1/2 tsp. ground cinnamon

Salt

Pepper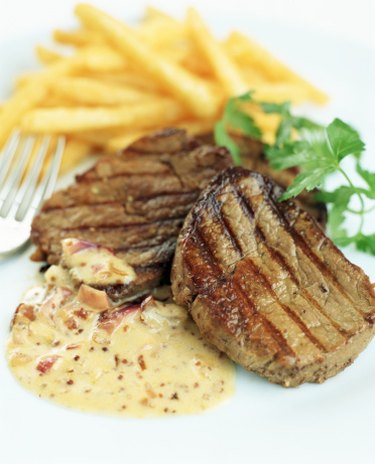 One of the best ways to cook a sirloin tip steak is to grill it. This is a lean cut of beef. Seasoning the meat first will result in a tasty main dish. Cook the steak whole with a mildly spicy rub, as in the recipe below. You can also cut a sirloin tip steak into pieces to make kabobs. Marinate the meat pieces in an acidic mixture, such as Italian dressing, and then grill. For flavor, marinate in the refrigerator for 15 minutes to two hours before grilling.
Ancho Chili-Rubbed Sirloin Tip Steaks
Step 1
If using a gas grill, turn it on medium heat. To start a fire in a charcoal grill, lay charcoal briquettes in a grid fashion. Briquettes should touch and overlap. Sprinkle lighter fluid generously over briquettes and light. Let the charcoal burn down approximately 30 minutes. Briquettes should reach 350 to 375 degrees.
Step 2
Mix together the ancho chili powder, orange zest, minced garlic, cocoa powder, oregano and cinnamon. Rub the mixture into the steaks.
Step 3
Place the steaks on the preheated grill. Cover the grill. For medium-rare, cook for 11 to 13 minutes over charcoal; cook for 13 to 15 minutes if you are using a gas grill. Turn the steak once during grilling. Do not overcook.
Step 4
Season with salt and pepper to taste and serve.
Tip
This recipe serves four, if each 8-oz steak is cut in two before serving. For heartier appetites, serve each steak as one portion. A 4-oz. portion contains 159 calories and 8 grams of fat.