Things You'll Need
Butter

Olive oil

Skillet

Saucepan

Boneless, skinless chicken breasts

Orange or pineapple juice

Dry white wine

Honey

Black pepper

Whisk

Baking dish

Cooking spray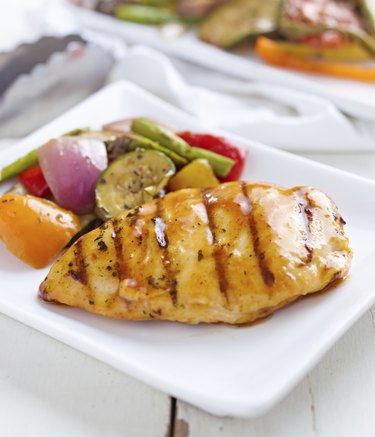 A glaze gives chicken a glossy, flavorful coating to complement the meat's flavor and dress up its appearance. Most chicken glazes are thick and sweet with a citrus undertone, negating the need for a dipping sauce or dressing. Glazing chicken requires a little more effort than baking it normally, but will produce a significantly tastier dish.
Step 1
Preheat the oven to 400 degrees Fahrenheit.
Step 2
Melt equal parts butter and olive oil over medium heat in a large skillet. Place the chicken into the pan, browning both sides of the breast. Set the chicken aside.
Step 3
Combine 2 parts of orange or pineapple juice, 1 part dry white wine and one half part of honey in a saucepan. Season with freshly ground black pepper. Whisk the mixture for five minutes until the glaze thickens slightly.
Step 4
Submerge each chicken breast in the glaze before placing into a greased baking dish. Drizzle leftover glaze evenly over the top of the chicken breasts.
Step 5
Bake the chicken in the oven for 25 minutes. Switch the oven temperature to broil and cook the chicken an additional 5 minutes. Once finished, allow the chicken to cool for five minutes before serving.
Tip
Broiling the chicken breasts adds a shiny appearance and crispy texture to the glaze.
You can glaze a whole chicken by brushing the glaze directly onto the bird. Forgo the browning process and adjust the cooking time according to its size.