Things You'll Need
Plaster gauze

Flour

Salt

Bowl

Waterproof latex, acrylic or tempera paint

Paintbrush

Sponge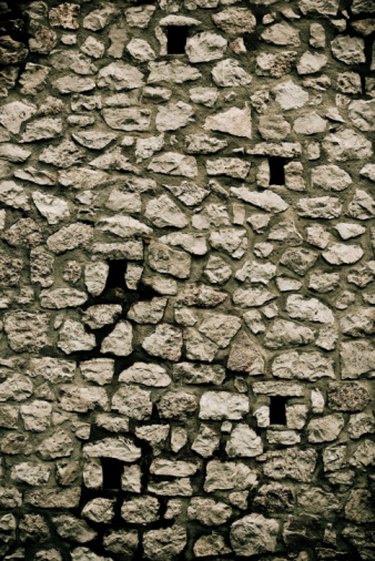 If you are creating a diorama or display for a school project, you can make the display appear more realistic by adding replicas of certain objects, such as fake rocks. You can make fake rocks using materials that can be found at a craft supply store, such as plaster of Paris and plaster gauze. Once finished, you can place the fake rocks into your display or diorama to make the scenery look real.
Step 1
Dip a piece of plaster gauze into warm water, then wrap it into a ball. Cut the gauze smaller if you want a small rock, or larger is you want a big rock. The plaster gauze will harden once it dries completely, which takes from 20 to 40 minutes.
Step 2
Combine flour, salt and water in a bowl in the proportions of two parts flour, one part salt and one part water. Mix the ingredients in a bowl until they form a thick paste.
Step 3
Coat the dried gauze form with the paste, forming it into the shape of the rock you want to make. For example, you can make the rock smooth and oblong like a river rock, or trapezoidal with sharp edges like sandstone. Let the paste dry for 1 hour; it will end up looking cracked and rough.
Step 4
Paint a thin layer of dark gray paint over the entire rock. Let the paint dry for 30 minutes. Use a waterproof latex paint if you want to use the rock outdoors. Otherwise, you can use acrylic or tempera paint.
Step 5
Sponge on a thin layer of medium grey paint, leaving the dark paint peeking through. Let the paint dry for 30 minutes.
Step 6
Apply a very thin layer of light grey paint, also using a sponge so the other colors are visible, then let the paint dry before displaying the fake rock.