Things You'll Need
White chocolate chips

Chilled glass bowl or container with a tight-fitting top

Liquid food coloring or candy coloring

Wooden spoon

Colander

Saucepan

Baking sheet or serving platter

Vegetable or canola oil

Wax paper

Clean storage container with a tight-fitting top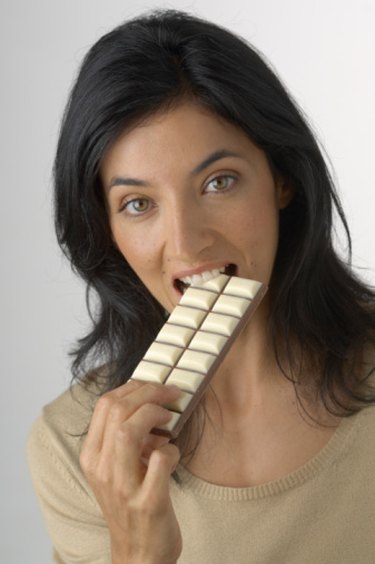 White chocolate chips can be dyed numerous colors for use in cookies, cakes and other dessert items. Chocolate chips can be made in advance and stored for later use, or used immediately after they are fully dry. But, white chocolate chips that are tinted require at least 12 hours, so color chips in advance if you're using them for a special occasion.
Step 1
Pour the desired amount of white chocolate chips into a chilled glass bowl or container with a tight-fitting top. Use a container large enough in circumference that most of the chocolate chips can touch the bottom; otherwise, proceed in smaller batches.
Step 2
Add enough liquid food coloring or candy coloring to the glass bowl to just cover the chocolate chips. Stir the chips with a wooden spoon for one minute to thoroughly coat them.
Step 3
Cover the glass container with a tight-fitting top. Allow the chocolate chips to rest for four hours or overnight.
Step 4
Place a colander over a saucepan large enough to hold the colander without it touching the bottom of the saucepan. Pour the chocolate chips out into the colander and allow them to drain for 30 minutes.
Step 5
Cover a baking sheet or serving platter with a sheet of wax paper. Lightly coat the wax paper with a small amount of vegetable or canola oil.
Step 6
Transfer the colored white chocolate chips onto the wax paper. Cover the chocolate chips with another sheet of wax paper and allow them dry fully for 12 hours or more.
Step 7
Put the colored chocolate chips in a clean container with a tight-fitting top. Store them for up to six months in a cool, dark and dry place. Discard the chocolate chips after six months.
Tip
Using a chilled bowl will help to keep the chocolate chips from sweating and losing their shape when you add the room-temperature food coloring or candy coloring.
The longer you allow the chocolate chips to marinate in the food color or candy coloring, the darker, more vibrant they will become during a 24-hour period.