Things You'll Need
Leather deglazer or leather bleach

Water

Sponge

Brushes

Acrylic paints

Acrylic finish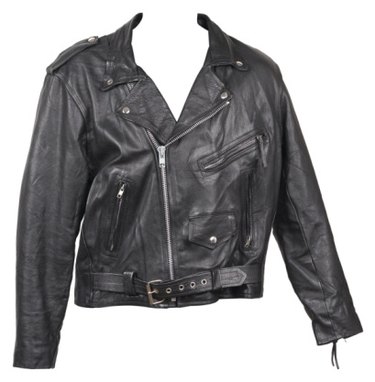 Painting is a great way to personalize a leather jacket. Whether it's a small decoration on a sleeve or lapel or a large design on the back, the techniques are the same. However, painting on leather is not like painting on other surfaces. Getting a good result requires preparation and the right choice of equipment. Just follow these steps and you'll soon be on your way to creating a unique piece of clothing.
Step 1
Clean the leather to remove water spots and dirt. You can use commercially-available leather deglazer and cleaner for this, or mix an ounce of leather bleach (oxalic acid) into a pint of water and apply that to the leather using a brush or sponge.
Step 2
Choose your paints. Water-based acrylic paints are best for painting on leather. Some acrylics are specially formulated for painting on leather.
Step 3
Mix acrylic paint with an equal amount of water and paint your design onto the leather. You will find that this coat doesn't cover completely; you'll want to apply several thin coats rather than one heavy one. Flex the leather between coats to prevent the acrylic paint from cracking later.
Step 4
Use undiluted acrylic paint to paint the top layer of your design over the lighter coats beneath. Paint light colors first and dark colors last. It's easy to paint dark colors over light ones with acrylic paint, but hard to paint light over dark.
Step 5
Wait for the paint to dry, and then apply a layer of acrylic finish to protect it from the elements. Apply a single light coat; any more can create a cloudy appearance.