Bamboo is a natural choice when decorating tropical rooms or spaces, but bamboo furnishings can be quite costly and, depending on your locale, difficult to find. Transform furniture, railings and trim in your space by painting faux bamboo. Chairs with spindle backs, staircase spindles, legs on tables and chairs, and structural posts set in the middle of a room lend themselves well to faux bamboo painting. Bamboo painting is quick and isn't difficult for a novice painter as imperfections add to the natural finish.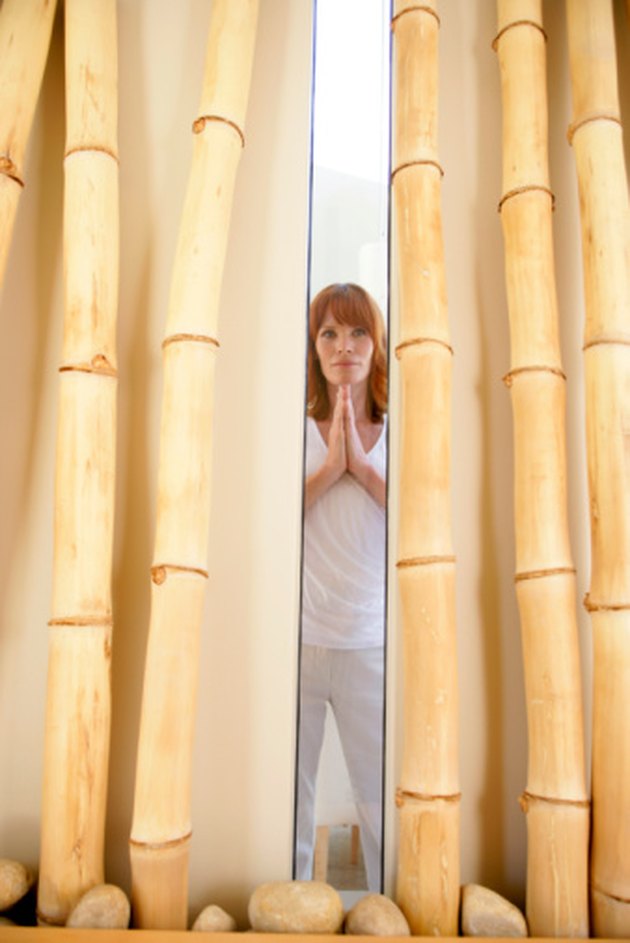 Things You'll Need
Tan acrylic paint

Paintbrush

Brown acrylic paint

Artist's paintbrush

Ruler

Disposable paper bowl

Paper towel

Toothbrush

Clear polyurethane sealer
Step 1
Paint your round spindle surface, using tan acrylic paint. Allow the paint to dry and add additional coats if necessary for complete coverage.
Step 2
Paint thin rings around the spindle approximately 5 inches apart, using brown acrylic paint and an artist's paintbrush. The rings are emulating the joints of bamboo. The distance between the rings does not need to be exact and the rings should be wiggly and uneven to give the bamboo painting technique a natural appearance.
Step 3
Mix equal parts brown and tan acrylic paint in a disposable paper bowl. Dip a paintbrush into the paint. Scrub off most of the paint into a wadded-up paper towel. Sweep the brush down the spindle's length from one joint ring to another. This dry-brush technique will produce light lines on the spindle, creating a natural bamboo-like grain to the surface.
Step 4
Dip the bristles of an old toothbrush into the mixed brown and tan paint. Turn the toothbrush with the bristles pointing down. Hold the brush over your painted spindle. Pull your thumbnail over the bristles from the front to the back. As the bristles pop back up, the paint will spatter over the spindle. Continue until the entire spindle has been spattered. Allow the paint to dry.
Step 5
Apply a clear polyurethane sealer to the painted bamboo. This final application not only seals the paint, but also gives the bamboo a natural shine.
Tip
Leftover wall or house paint can be substituted for this technique.