Things You'll Need
F-channel

Tin snips

Large carpenter's square

Pencil

Measuring tape

Chalk line

Siding nails

Hammer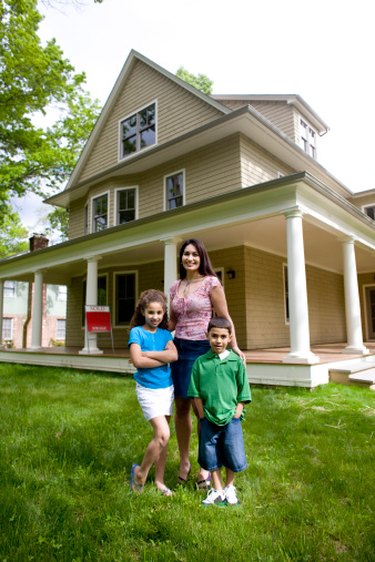 Vinyl siding is low maintenance and comes in a host of attractive mix-and-match siding and trim colors. Unlike other types of siding, vinyl siding is a complete installation system that includes many specific pieces of molding and trim. Vinyl F-channel is such an item. F-channel, so called because it resembles the capital letter "F" when viewed from the side, holds and covers the cut end of vinyl soffit. F-channel is also called F-receiver or soffit receiver.
Step 1
Locate the bottom edge of the roof fascia. This board runs horizontally right beneath the lowest row of shingles. Later, this is the board to which you will attach the guttering, but right now, it is bare.
Step 2
Hold one side of a large carpenter's square flush along the side of your house, under the eave, with the top side extended out to touch the bottom of the roof fascia. At the highest point where the corner of the square meets the wall, make a pencil mark. This mark should be level with the bottom of the fascia. Make another pencil mark the same way at the other end of the wall.
Step 3
Pop a chalk line between the two marks on the wall. This is the guide you will use to install the F-channel.
Step 4
Measure and cut the F-channel to match the distance of the wall. For long walls, you may have to use more than one piece. F-channel sells in 16-foot lengths.
Step 5
Position a strip of F-channel so the flat nailing strip extends downward, flush along the wall, and the two receiver tabs face outward. Align the top of the F-channel strip with the chalk line.
Step 6
Nail the F-channel in place with siding nails, taking care not to drive the nails too tightly. Stop when the head of the nail makes contact with the nailing strip. Insert one nail every 16 inches, through the boxing and into a stud.
Tip
Cut soffit pieces to fit from the outer edge of the fascia, sliding the inside edge into the groove in the F-channel.
Install J-channel over the lower edge of the F-channel to conceal the top edge of the vinyl siding strips. J-channel also goes on the outer edge of the fascia to cover the cut edge of the soffit.
Warning
Cut edges of vinyl siding and soffit are sharp. Wear leather gloves to protect your hands.