Things You'll Need
Structural plans

Concrete blocks

Metal slab pan

Reinforced steel mesh and "chairs"

Precast concrete panels

Tower crane

Concrete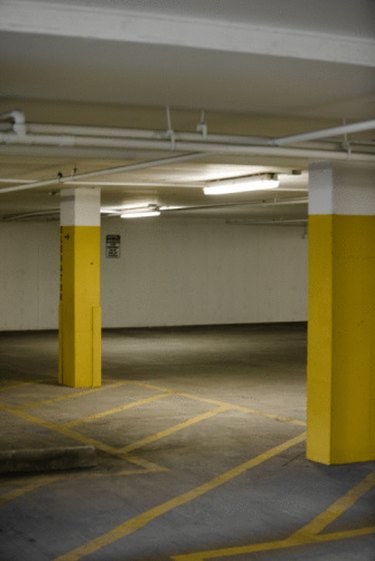 An elevated or suspended concrete slab is most commonly found in multistory heavy-use buildings, such as parking garages or commercial offices. Many factors need to be taken into account when designing an elevated concrete floor, not only to take into account the weight of the floor, but also the effect of additional loads on the concrete. This design should be carried out by a qualified person to avoid costly mistakes.
Step 1
Build the supporting walls according to the structural plans. They can either be constructed out of concrete blockwork, or by concrete poured into formwork and reinforced with steel bars. Also build the wall that supports the floor to the specific designs as shown on your plans and blueprints.
Step 2
Lower the metal slab pan into place with a tower crane. This will be used as the formwork into which the concrete will be poured to form the elevated floor. Alternatively, you can use a system of connecting preformed concrete panels.
Step 3
Lay the reinforced steel mesh into the pan before pouring the concrete, lifting it slightly from the floor of the pan using small metal supports — or "chairs" — at regular intervals. This gives additional strength to the floor. Larger buildings may require the use of precast concrete floors that have been previously reinforced with tensile steel bars.
Step 4
Pour the concrete into the pan, making sure that the mix made according the structural engineers' recommendations.
Step 5
Leave the floor for 48 hours to completely cure before walking on it.