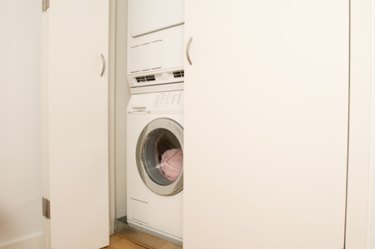 Bifold doors work very well for large and small closets alike. They come in a wide variety of styles and sizes. The first step in installing a bifold door is making sure you purchase the correct size to fit your closet. Most closets will need to have two bifold doors installed to cover the opening. When purchasing two doors, combine the doors' widths to achieve the closet opening measurement.
Step 1
Remove the old closet door from the closet opening. Measure the length and width of the finished opening.
Step 2
Select a bifold door which is approximately 1 inch less than the width of your closet opening and 1 to 2 inches less than the height of your closet opening. Combine the widths of the bifold doors if you are installing two.
Step 3
Purchase a bifold door slightly larger than your closet opening and plan to cut it to the proper length if the size door you need is not available.