Things You'll Need
Degreaser and cleaner

Sponge

Sandpaper

Construction adhesive

Tin tiles

Tin snips

Pneumatic pin nailer

Nail set

Denatured alcohol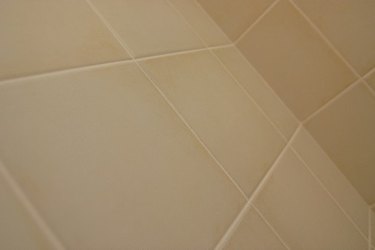 Using decorative tin tiles for a kitchen wall decoration or backsplash is a creative way to boost the aesthetic appeal of your home. Generally, tin tiles can be installed over the existing wall material, whether that is ceramic tile, dry wall or wallpaper, as long the proper preparation steps are taken. Tin tiles can be purchased at many places, including building supply stores and home decorating shops. Choose color or pattern variations of the tiles to create a checkerboard design on the wall for a personalized kitchen wall.
Step 1
Clean the existing wall ceramic tiles thoroughly with a degreaser and cleaner combination. Scrub the wall well with the cleaner and a sponge scrub pad to remove all traces of grease and other debris that may be on the wall. It is important for the ceramic tiles to be clean or the adhesive of the tin tiles will not stick properly.
Step 2
Sand the ceramic tiles gently with 80 grit sandpaper to scuff the surface. This allows the adhesive to form a better bond with the ceramic tiles, ensuring that the tin tiles won't fall off the wall later. If there are any obvious bumps on the ceramic tiles, you need to sand them down level with the surrounding surface. Wipe the wall with a dampened sponge to remove the sanding dust and allow the ceramic tiles to dry.
Step 3
Measure and cut the tin tiles to fit in the space where you are planning to install them. Cutting the pieces beforehand will ensure that there are no unsightly edges. Use tin snips to cut the tin tiles in smooth, straight lines.
Step 4
Apply a thin layer of construction adhesive to the back of the tin tile and place it against the ceramic tile already on the wall. Press the tin tile firmly against the wall, holding it in place for about 30 seconds so the adhesive can form a good bond. Continue working in this manner until all the tin tiles are installed on the kitchen wall. Allow the tin tiles to rest for 24 hours so the construction adhesive can cure properly.
Step 5
Nail the tin tiles to the underlying wall using a pneumatic pin nailer. This piece of equipment is a high powered nail gun that ensures small nails can penetrate the underlying surface. Use caution when working with the pneumatic pin nailer to avoid injury. After you nail the tin tiles to the wall, tap each nail with a nail set to push the nails below the surface of the surrounding wall, making them virtually invisible.
Step 6
Wipe the tin tiles down thoroughly with a sponge dampened with denatured alcohol. This will remove the protective coating that is put on the tin tiles by the manufacturer. The tin tiles can be painted with oil based paint or left unpainted.