Things You'll Need
Scissors

Paper towel

White vinegar

2 microfiber cleaning rags

1/4 cup baking soda

Bowl

Rubber spatula

Terrycloth towel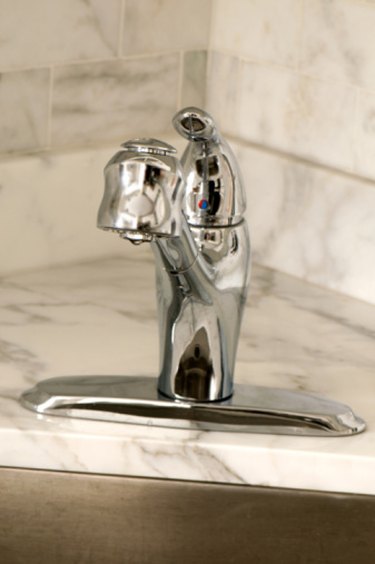 Most household water systems contain minerals, such as magnesium and calcium. Neglecting to wipe moisture from faucets makes them susceptible to hard water discoloration; the water evaporates and leaves behind dull, white mineral deposits. Hard water discoloration taints the aesthetic appeal of chrome, gold, brass and stainless steel faucets, which detracts from a bathroom's overall appearance. Failure to quickly address hard water discoloration makes the task of removing the mineral deposits more difficult in the future. Promptly fix a discolored faucet using basic household supplies.
Step 1
Cut a paper towel into several strips. Drench the paper towel strips in white vinegar.
Step 2
Wrap the saturated paper towel strips around the discolored faucet. Leave the strips on the faucet for one hour.
Step 3
Unwrap the strips from the faucet. Peel off any remaining stuck-on paper towel fragments.
Step 4
Moisten a microfiber cleaning rag with warm water. Wipe the rag over the faucet to rinse away the vinegar.
Step 5
Examine the faucet for remaining discoloration. If the faucet is still marred with white deposits, make a paste of 1/4 cup vinegar and 1/4 cup baking soda in a bowl. Mix the vinegar and baking soda until the paste is smooth.
Step 6
Coat the remaining mineral deposits with the paste using a rubber spatula. Let the paste dry on the faucet.
Step 7
Dampen a second microfiber cleaning rag with warm water. Wipe the faucet with the rag to rinse off the paste.
Step 8
Dry the faucet with a terrycloth towel to prevent future hard water discoloration.
Tip
Substitute distilled water for the white vinegar when removing discoloration from gold faucets.
Substitute cotton balls or facial tissue for the paper towel.
Warning
Abrasive cleaners and metal supplies will scratch and damage faucets.