Things You'll Need
Budget

Venue

Theme

Decorations

Entertainment

Food

Drinks

Invitations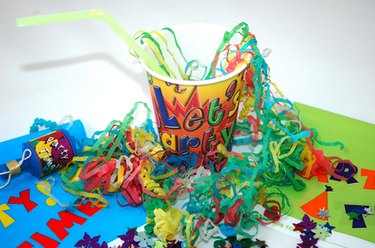 Planning a party for 200 people can be an event in itself. The most important part of putting together a party for a large group is being organized and working ahead. Have your budget ready before you even begin, then decide on the venue, food and drinks, theme, decorating and invitations. Setting up a party this large also requires extra hands, so don't be afraid to ask for help from friends and family.
Step 1
Come up with a budget. A party for 200 people, catered or not, is going to cost a lot of money. Decide how much you have to spend, then designate the amounts accordingly.
Step 2
Find a location. Unless you live in a mansion, you probably don't have room for 200 people at your home. Find a conveniently located venue that is within your budget and can hold a large number of people.
Step 3
Decide on a theme, if desired. Some popular themes include tiki, Hawaiian, pirates, black tie, disco or '80s. Use this theme to organize the decorations, invitations and food choices.
Step 4
Organize your food and drink options. This may be one of the difficult parts of planning a party for large groups. Catering might be the easiest way to do this, as you can simply tell the catering company how many guests you have, and they will provide the food and drink accordingly. If you want to save a little money, you can provide the food and drinks yourself. A general rule of thumb is to have 1 lb. of food per person, plus dessert and beverages.
Step 5
Send out the invitations. There are a variety of ways to do this, including traditional paper invitations, personal e-mails or an online invitation service. Sent the invitations out about 4 weeks before the party to give your guests ample time to RSVP.
Step 6
Choose your entertainment. Hire a live band or DJ, or set up a CD player with a variety of music. Also consider using a karaoke machine.
Step 7
Set up early. Give yourself at least three hours. Get to the venue early, check in with the caterers and entertainment to be sure everything is on time and ask for help from friends and family to set up.
Tip
Be clear on the invitations about the duration of the party and whether attendees can bring a guest.