Things You'll Need
Tile cleaner

Sponge

Rags

Squirt bottle

Furniture polish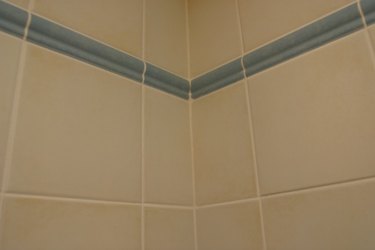 Shiny ceramic tiles add beauty and style to your home. Whether you use ceramic tile for accent or to cover an entire wall, the tile always looks better after it's polished and buffed. Since ceramic tiles are easily scratched, it's important to use gentle, non-abrasive cleaners and polishing solutions to make them beautiful again. Buffing ceramic tile starts with making sure the surface is completely clean so no dirt or grime gets in the way of the polishing process.
Step 1
Squirt tile cleaner on your tiles, and allow the tiles to soak for 15 to 20 minutes. Soaking the tiles makes it easier to get them clean because the cleaner penetrates the grime.
Step 2
Scrub the tile using a sponge or clean rag, then rinse off the soap scum from the tile with clean water and rags. For large tile sections, use a squirt bottle to apply water to get off the scum.
Step 3
Wipe the remaining water off the walls with a clean rag, and allow the tiles to thoroughly dry.
Step 4
Spray or rub furniture polish on your tiles, then use clean rags to buff the tile until all of the polish has been worked into the tiles. You will end up with a bright, shiny tile surface.
Tip
To quickly get all of the water off of your tiles after cleaning, use a squeegee.
Keep your tiles clean so the polish lasts longer. Plan on buffing your tiles once a month or so to keep the shiny, fresh look.
Warning
Avoid using abrasive cleaning solutions since they may scratch your tile.
Never use spray furniture polish on ceramic floors as the surface becomes too slippery to walk on.