Things You'll Need
Flour

Water

Plastic container

Wooden spoon

Newspaper

Latex balloon

Marker

Scissors

Acrylic paint and brush

Empty egg carton

Cardboard or Styrofoam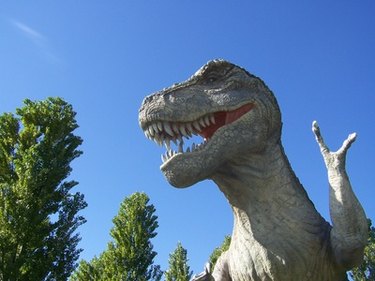 Whether you need the piece for a theater costume, or to wear for a party, you can easily make an inexpensive dinosaur head. Papier-mache is a simple crafting technique that utilizes items you already have on hand. Find some newspaper from your recycling bin and dig out any type of flour from your pantry to get started. Research a particular dinosaur to find out what color scheme and shape to use, or create a fantasy dinosaur complete with sparkles or rhinestones.
Step 1
Add a cup of flour to the plastic container. Add 3 cups of water and stir using the wooden spoon. Mix until your "glue" is free of clumps.
Step 2
Tear the newspaper into 1-inch wide strips. Make a large pile of strips; it is best to have too many rather than not enough once you begin the next steps.
Step 3
Blow up the latex balloon to the size of your head. Turn the balloon onto its side so the knotted end is on the left or right side. Draw a horizontal line all the way around the balloon, so you are dividing the top half from the bottom half of the balloon.
Step 4
Begin adding the first layer of papier-mache by dipping a strip of newspaper into the glue. Squeeze off excess glue with your fingers. Layer the strip of newspaper onto the top half of the balloon, leaving the bottom half uncovered.
Step 5
Continue laying wet strips, overlapping the edges with one another, until you have a completed layer. Let the layer dry, which should take about an hour. Continue adding at least two more layers, letting the layers dry between applications. Make sure to leave the bottom half of the balloon uncovered.
Step 6
Pop the balloon and remove the broken latex from the dinosaur head. Paint the dinosaur head with the acrylic paint. Paint the eyes and nostrils on the top of the dinosaur head. Add shading and texture.
Step 7
Cut out triangles the size of the dinosaur's teeth from the egg carton or cardboard. Paint the teeth white. Hot-glue the teeth to the inside front of the head, so when the wearer puts on the dinosaur head, the teeth are hanging down in the front for the mouth.
Step 8
Cut the Styrofoam into horns, bone structures or plates to coordinate with your dinosaur head. Paint these structures before attaching them to the head with a hot-glue gun.
Tip
Add more water, 1 tbsp. at a time, if the glue is too thick. Add more flour, 1 tbsp. at a time, if your glue is too thin.