Things You'll Need
Sponge of medium to large size

Large bowl

Seeds

Plate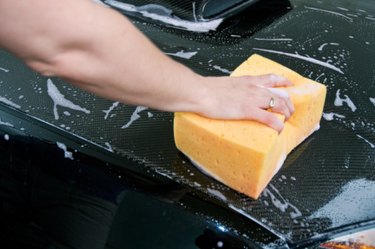 As the burgeoning industry of hydroponics has shown, plants can be started without the use of soil as a growing medium. Seeds require water, sunlight and a warm temperature for germination, which can usually be provided on a sunny windowsill in a variety of containers -- including a sponge. This can be a fun way to teach young children about seed germination.
Step 1
Fill the bowl with water that is either room temperature or lukewarm. Place the sponge in the water and allow it to soak up the water until it has reached saturation.
Step 2
Remove the sponge from the water; squeeze it to remove any excess water. The sponge should have plenty of moisture, but not be dripping.
Step 3
Open the package of seeds. Place a seed inside one of the sponge holes; continue until the sponge is filled, but not "packed" with seeds. Depending on the size of the sponge, you may wish to leave holes between seeds empty to provide room for plant growth.
Step 4
Place the seeded sponge onto the plate and position it on a sunny windowsill. Plants should begin sprouting within a few days.
Step 5
Keep the sponge moist. If allowed to dry out, seeds will not germinate properly or plant sprouts will die.
Tip
Although kitchen or household sponges can be used, a sea sponge is a natural medium for plant growth -- rather than the foam rubber in commercially produced sponges.
"Bio sponges" can also be purchased, made specifically for seed germination for serious gardeners; these can be purchased at garden and plant centers or online.