Things You'll Need
Tarps

Pry bar

Hammer

Safety glasses

Work gloves

Dust mask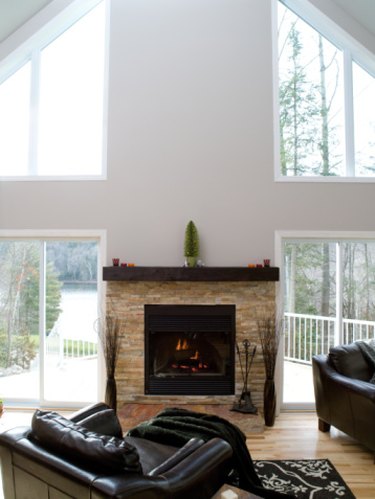 A mantel is a decorative shelf above a fireplace. A full mantel surrounds the fireplace on two sides and has an attached shelf across the top. Over time, mantels can incur damage, making removal necessary. If the style of your fireplace mantel no longer appeals to you, then you can remove it. Mantels are not a structural part of a fireplace; installation occurs after the fireplace is set. A mantel is not necessary to the function of a fireplace.
Step 1
Remove any items sitting on top of the mantel. Lay tarps on the floor around the fireplace to protect the flooring from damage.
Step 2
Position the flat end of a pry bar between the shelf and the brick, beginning at either end of the mantel. Use a hammer to strike the pry bar and force it between the shelf and the brick.
Step 3
Lift the pry bar to loosen the mantel from the cleats. Move the pry bar toward the center of the mantel, tap it in place and lift the pry bar. Continue to move the pry bar along the underside of the mantel, tap it in place and lift until the shelf is free from the fireplace.
Step 4
Place a pry bar along the side of the mantel and tap in place with the hammer if it is a full mantel. Begin at the top edge and pry the mantel off the side of the fireplace. Move the pry bar down the side length of the surround; tap the pry bar in place and pry the side piece off until you've removed the entire piece. Repeat on the opposite side of the fireplace.
Tip
Replace the mantel with one that's a similar size for easier installation.
Wear safety glasses, gloves and a dust mask when removing a mantel.