Things You'll Need
Wet vac

All-purpose cleaner

Rags

Small, soft-bristled nylon toothbrush

Work gloves

Safety glasses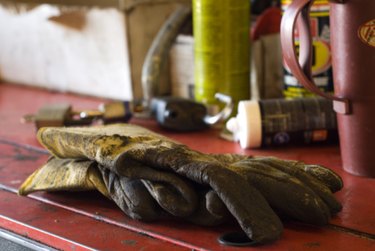 Baseboard radiators are a source of heat in many older homes and buildings. Water from your hot water heater travels through pipes and into the baseboard units. This hot water heats small metal fins that, in turn, radiate heat into the room. This system is effective for heating well-sealed areas as long as it is properly maintained. Cleaning your baseboard radiators periodically will allow them to do their job as efficiently as their design allows. Cleaning the sharp metal fins inside of the unit requires a light touch and the proper tools.
Step 1
Turn off the baseboard radiator with the controls inside the room you are cleaning. Let the radiator cool to room temperature. Lift the metal face plate off of the unit to expose the fins.
Step 2
Remove loose debris from between the radiator fins with the wet vac. Inspect the fins as you work. Call a licensed, qualified repair technician if any large areas of the heater are crushed or otherwise damaged.
Step 3
Spray all-purpose cleaner onto a rag. Wipe the fins with the cleaner to remove dirt, dust and other debris. Twist a corner of the rag and slip it between the fins to clean the crevices.
Step 4
Scrub stubborn debris off of the fins with a small, soft-bristled toothbrush. Wipe the fins clean with a rag.
Step 5
Let the radiator dry completely. Slide the metal face plate back onto the unit. Turn the power on at the heater controls. Open the windows in the room to let out any fumes from chemical residue. Leave the windows open for 30 minutes. Close the windows and adjust the heater to a comfortable, economical level.
Warning
Wear work gloves, safety glasses and a dust mask when cleaning dust out of a baseboard radiator's sharp fins.