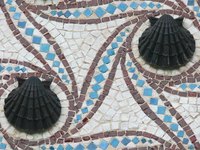 A mosaic is an effect added to a photo that makes it look as though it is composed of many fragments or pieces of other images. It has the ability to trick the eye into thinking it sees one object when there are actually many other, smaller images that make up the object. If you have such an image and want to remove the mosaic from it, you can do so using Adobe Photoshop.
Things You'll Need
Open Adobe Photoshop on your computer and open the digital mosiac image in the program.
Click F7 to activate the "Layers" panel, which will then show up at the bottom right of your program.
Place your pointer on the layer that contains the mosaic.
Right-click on the layer that includes the mask in the "Layers" panel and then click "Delete Layer Mask" in the small window that appears. This will delete the mosaic effect from your image.