Things You'll Need
Pool test kit

Chlorine

Ultraviolet light system (optional)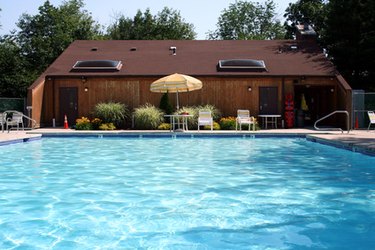 Parasites can be released through human fecal matter into swimming pools. Adding chlorine to your pool can kill most but not all parasites. A few of the especially bothersome parasites are Cryptosporidium, Giardia, Shigella and E. coli. Swimmers may catch these parasites if they swallow pool water, or in some cases, simply come into contact with contaminated water. Diarrhea is the most common symptom for someone infected with a swimming pool parasite. Proper water maintenance can help prevent many parasites from ever spreading.
Step 1
Monitor your swimming pool chemical levels regularly with a pool test kit. A complete kit measures the chlorine, pH, bromine, acid demand and total alkalinity levels of the water.
Step 2
Adjust the chlorine and pH level of the pool when necessary. A proper level of chlorine quickly kills almost all parasites. Chlorine comes in many variations and can be purchased at any pool supplies store. Each brand of chlorine has its own instructions for how much to add for certain pool sizes.
Step 3
Keep kids with diarrhea away from your swimming pool. The accidental release of stool can spread any parasites they have to other swimmers.
Step 4
Regularly remove any debris from the pool. Parasites can attach to the debris, evading chemicals in the pool designed to kill them.
Step 5
Install an ultraviolet system to kill parasites such as Cryptosporidium. The systems are expensive but effective for public pools. The parasites are destroyed as they float by the ultraviolet light.