Things You'll Need
Spade

Fieldstones

Flat stones

Flagstones

Boulder slabs

Medium boulders

Large boulders

Shovel

Drought-tolerant plants

Gravel

Polyvinyl edging

Pea gravel

Cobblestones

Paint

Clear acrylic sealer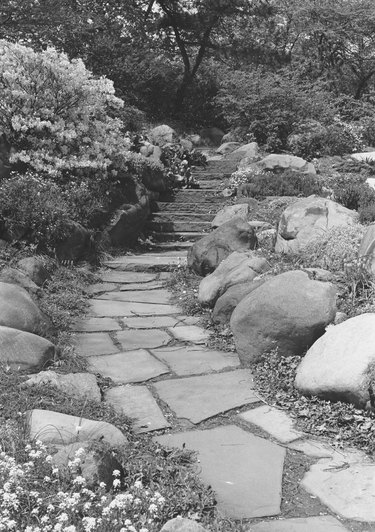 While digging a new garden plot, the last thing you want to come across is a bunch of rocks in your yard. When rocks are placed in the yard deliberately, however, they accent plants and other garden features to tie the entire landscape together. Accent rocks can be as small as pea gravel or as large as a 1,000-pound boulder, and they come in a wide variety of shapes and colors. You might find some uses for rocks that are both functional and decorative.
Step 1
Line a flower bed with fieldstones to create decorative garden edging. Use a spade to dig a trench as deep as half the average stone height and set the stones in the trench. Alternatively, you can use cut stone pavers of uniform size to give a more structured look than the free form of fieldstones.
Step 2
Place a few fieldstones throughout a flower bed as a way to break up large numbers of plants, adding a juxtaposition of hard rock material against the soft foliage of garden plants.
Step 3
Lay small, flat stones, flagstones or large boulder slabs to create a stone staircase to accent a slope in the yard. Lay the first slab or series of smaller stones at the base of a slope. Cut away soil above the first step to carve out the second step; lay a second slab or series of stones in place. Repeat this process until you reach the top of the slope.
Step 4
Place medium-to-large boulders on a hillside along a set of steps to help hold the hillside soil in place and accent flowers in a flower bed. Bury the bottom one-third of each boulder to make it look like they occur naturally.
Step 5
Set a large boulder beneath a shade tree in your yard or as a focal point in a flower bed. Large boulders serve as accent pieces but also provide a place to sit and relax in the garden.
Step 6
Create a rock garden in your yard so you can grow drought-tolerant plants that require little maintenance. Place rocks of various sizes in a garden bed or on a slope with the bottom one-third of the stones set in the soil. Plant drought-tolerant plants, such as cottage pinks (Dianthus plumarius) and cobweb hens and chicks (Sempervivum spp.) in pockets of soil between rocks. Cottage pinks grow in U.S. Department of Agriculture plant hardiness zones 4 through 9, while cobweb hens and chicks grow in USDA zones 7 through 10.
Step 7
Stack fieldstones or stone blocks up to 3 feet high, creating a retaining wall to break up a slope into two level areas. Dig out a portion of the slope to create a flat base and a straight, vertical wall of soil. Dry stack the stones in front of the vertical soil wall. Stagger the joints on each course of stones for maximum stability; mortar is not required. Use gravel to back-fill the space between the vertical soil wall and stones as you build up the wall to prevent eroding soil and water from shifting the wall.
Step 8
Remove the turf layer in an area about 4 feet wide for a garden path; use garden hoses to outline the path and use a spade to cut through the turf layer. Line the sides of the path with polyvinyl edging set in the ground and cover the exposed soil with pea gravel or small cobblestones to complete the path.
Step 9
Lay flagstones to add a walkway or patio that accents your garden and other stone features. Flagstones are thin-cut sedimentary stones that can be laid directly over the soil or set into the ground so you can mow right over the stones. Some flagstones are perfectly square and identical sizes, which gives a slightly more formal appearance. Irregular-shaped flagstones fit together like puzzle pieces for a more casual feel.
Step 10
Spread pea gravel as an accent between flagstones in a path or patio. Alternatively, you might add a strip of pea gravel along a house foundation beneath gutters to add drainage and decoration where plants won't grow as a result of too much moisture or lack of sunlight.
Step 11
Dig out a wide trench in your yard and fill it in with stones of various sizes to create a dry creek bed that helps carry excess water away from your property. The trench should follow the natural flow of water during a rainstorm so you don't disrupt the drainage pattern in your neighborhood. Add larger, boulder-sized stones first, then fill in empty spaces with progressively smaller stones, finishing with small cobblestones or gravel.
Step 12
Paint stones to use as plant markers in a vegetable or flower garden; spray the stones with clear acrylic sealer to protect the paint. You can use flat or round stones. Alternatively, you can paint any picture or design on the stones or use a stone to display an inspirational word or your family name.
Tip
Your landscape design might feature only one type of accent stone, or you can incorporate several ideas if you particularly enjoy the look of stone in your garden.