Things You'll Need
Face mask

Scraper

Stiff brush

220-grit sandpaper

Cloth

Hand sander or sanding block

Stabilizing primer

Paintbrushes

Paint roller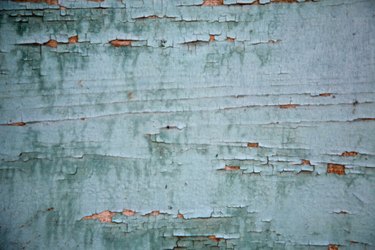 Cracked, flaking paint can ruin the look of your home. Loose or peeling paint is often a sign that the surface was not prepared properly before it was redecorated. Thorough preparation is vital before painting over loose or peeling paint. You can achieve an excellent finish by scraping off the problem paint and treating the area with stabilizing primer.
Step 1
Scrape off all loose, peeling and flaking paint with a paint scraper. Scrape around the area until you reach sound paintwork that does not easily come away on the scraper. Wear a protective face mask while removing the old paint. Place a dust sheet or old towels under the work area to capture the mess.
Step 2
Brush off all loose material, dust and debris with a stiff bristle brush.
Step 3
Sand the area with 220-grit sandpaper. Use an electric palm sander or wrap the coarse sandpaper around a sanding block. Wipe the surface with a damp cloth.
Step 4
Paint the area with a stabilizing primer. Choose a white primer that can double-up as an undercoat. Apply two coats of primer, leaving time for the first layer to dry before painting on the second coat. Wait for the primer to dry and cure. Drying times vary, so check the primer manufacturer's instructions on the packaging or container.
Step 5
Apply regular paint to the treated area with a paintbrush or medium-nap paint roller. You will probably need two coats. For exterior masonry, use two layers of reinforced masonry paint.
Tip
Loose and peeling paint inside your home can also indicate a problem with water ingress. Investigate and eliminate any source of moisture that might affect the paintwork.
Warning
Always wear a protective face mask while scraping, brushing or sanding old paintwork to avoid breathing harmful dust and debris.