Things You'll Need
Pot

Bowl

Bleach

Paper towel

Drill and drill bit

String

Glue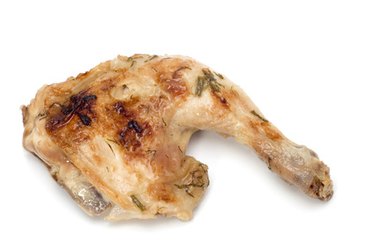 Don´t just throw away the leftovers from your chicken dinner. You can use the bones for a craft project. Chicken bones are ideal for crafting because they are small and lightweight and can add amusing accessories to costumes. Make a necklace for a witch doctor costume or a bracelet for a cavewoman. Chicken bones add an extra touch of creativity. Learn how to prepare the bones for crafting and let your imagination run wild.
Step 1
Remove all the meat from the chicken bones you wish to use. Pick leg bones, wing bones or bones about the size of a small finger.
Step 2
Boil water in a medium-size pot.
Step 3
Place the chicken bones in the boiling water for five to 10 minutes until the bones are completely clean and free of any meat particles.
Step 4
Mix one part bleach to three parts water in a bowl. Place the chicken bones in the bleach-water bowl to kill any remaining bacteria. Allow to sit for five to 10 minutes.
Step 5
Take the bones out of the bowl and place on a paper towel until they are completely dry.
Step 6
Drill holes through the tops of all the bones with a small drill bit, an 11/32-inch bit for example. Use a drill bit appropriate for the type of string you wish to use.
Step 7
Run the string through the bones to create a necklace or bracelet. Glue the bones to a hair pin to dress up a cavewoman costume.
Tip
Buy rubber chicken bones from a craft store to increase your costume options.
Twine and yarn are ideal strings for crafting with chicken bones.
Warning
Wear protective goggles when operating a drill.