Things You'll Need
Flyswatter

Spray nozzle

Water hose

Sticky traps

Double-sided tape

Garbage bags

Insecticide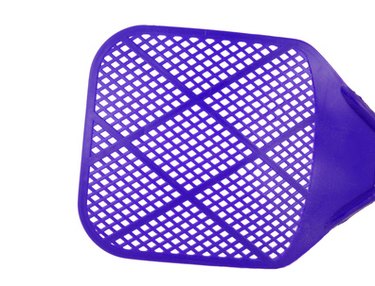 Flies are a common nuisance to home owners. Not only are they unsanitary, but they're also capable of making your home look unattractive. Vinyl siding is made of plastic and commonly collects or attracts airborne sugar particles from trees and plants. Hungry flies flock to the vinyl siding as a result. Consider trying a variety of different techniques to successfully eliminate flies on your vinyl siding.
Step 1
Kill all visible flies on the vinyl siding manually with a flyswatter. A flyswatter is a handheld device used to swat or kill flying insects. Attach a spray nozzle to a water hose and spray the vinyl siding with water to remove any dead flies that remain attached to the material. Use the flyswatter multiple times per day for best results.
Step 2
Place multiple store-brand sticky fly traps on the vinyl siding. Attach the back of the sticky trap to the vinyl siding with a double-sided tape. Place the sticky traps in diverse places on the vinyl siding for the best results. Check the sticky traps daily and replace as needed. Dispose of the used traps by placing them in a secure garbage bag.
Step 3
Spray an insecticide on the vinyl siding. The Texas A&M AgriLife Extension recommends using a pyrethroid-based insecticide for lasting success. Read and follow all insecticide label directions carefully before applying the product to the vinyl siding. Consider spraying a small amount of the insecticide on an isolated area of the vinyl siding beforehand to ensure the product doesn't leave a permanent mark on the material or damage the vinyl siding altogether. You can purchase a pyrethroid-based insecticide at home and gardening stores.
Tip
Remove, or seal with a secure lid, garbage cans that happen to be stationed near the vinyl siding to keep your property unattractive to flies.
Rinse the vinyl siding with water on a regular basis to remove any airborne sugar particles that happen to become attached to the material.
Warning
Killing the flies on the vinyl siding manually with a flyswatter will not prevent other flies from visiting or landing on the vinyl siding at a later date.
Applying tape to the vinyl siding may leave a permanent mark on the material.
Stop using the insecticide immediately if you notice it is damaging or marking the vinyl siding.