Things You'll Need
Notebook

Pencil

Blank invitation cards

Cotton swab

Lemon juice

Computer word-processing package

Printer

Office "Confidential" message stamp

Red ink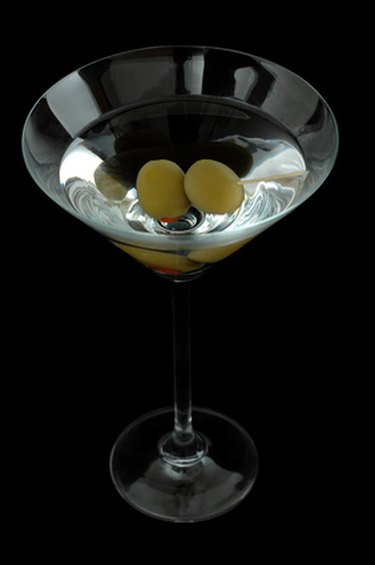 Stylish, witty and daring, James Bond makes a colorful party guest, sipping his trademark vodka martini, shaken not stirred. Ian Fleming's spy with the license to kill first appeared in the 1953 novel "Casino Royale." Fans of his exploits have included Presidents Ronald Reagan and John F. Kennedy. Plan a James Bond-themed fancy dress party and you have a ready source of heroes and villains for your guests to bring to life, based on the many books and films. Your invitation gives you the chance to set the mood for your party, inspiring your guests to enter Bond's dangerous, glamorous world.
Step 1
List, using a notebook and pencil, some background information on the James Bond books or films, such as catchphrases, locations, character names or pastimes. The James Bond International Fan Club website is a good source of information. Adapt items from your list to use in your invitation, for example: "Mr Bond, I've been expecting you," or "Baccarat will be played from 8:30 p.m."
Step 2
Note key details that any party invitation should contain: date, time and location. Make sure these details are prominently featured on your finished invite and are not obscured by other wording or images you add to the invitation.
Step 3
Word the invitation as if it is a briefing document for a secret agent. Use the curt, clipped style of a spy master, leaving out smaller words. Open with a phrase such as: "Your mission: Attend Ambassador's party at ..." and then add the address and date. Give directions such as "adopt disguise" or offer secret passwords that a guest should use to gain entry to the party.
Step 4
Add a challenge to your invitation with a line of code for your guests to break. You could encrypt the title of a Bond film, using a code that simply replaces letters with their numbered positions in the alphabet. For example, "Dr. No" would become: "4-18/14-15." Have small prizes at the party for all those who find the correct answer.
Step 5
Write: "Beware agent named in invisible ink. Hold against hot cup to reveal." Later, add the name of a Bond villain -- or fellow guest -- to the invitation, using a cotton swab dipped in lemon juice. The juice will dry to leave the message invisible, until the invitation is held against a hot surface, when the words will become legible.
Step 6
Your completed message might be similar to this: "Attention, Agent (friend's name). Your mission: Attend Ambassador's party at (address and date). Baccarat and dry vodka martinis, shaken not stirred, from 8:30 p.m. Adopt disguise. Use password phrase for entry as follows: "The blue swallow flies at dawn." Urgent, decode following message to attain reward: 4-18/14-15. Beware agent named in invisible ink. Hold against hot cup to reveal. He will be expecting you."
Step 7
Type your finished message into a computer word-processing package and print it onto blank invitation cards or write your message directly onto the cards by hand.
Step 8
Decorate your invitation with a stamp saying "Confidential." You can purchase an ink stamp and pad from an office supply store.