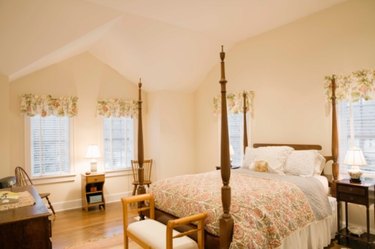 People use bed skirts to make beds look more formal, hide framing or hide items that are stored under the bed. Most four poster beds have attractive wooden slats that are part of the bed's design, so a bed skirt on a four poster bed is usually a complementary accessory that completes the look of the bedding. You can easily attach a skirt to a four poster bed in about 10 minutes as long as you have a helper.
Step 1
Remove the top mattress with the help of another person and set it aside. This will leave the box spring exposed.
Step 2
Lay the bed skirt cover over the box spring so that the skirt material drapes along both sides and the bottom of the bed. Bed skirts don't typically hang off the head of the bed, since the head is usually against a wall. Most bed skirts are attached to the edge of a rectangular piece of material that rests on the box spring.
Step 3
Push the skirt material down between the outside edge of the box spring and the inside of the bed's side and end panels. Four poster beds typically have panels along the sides and ends to support and square up the posts. The bed skirt needs to hang down behind the paneling to the floor.
Step 4
Pin the skirt to the box spring with safety pins along the edges and corners of the box spring mattress to keep it from sliding once you have it adjusted correctly. The number of safety pins needed will depend on the size of your mattress, but 50 should be more than enough for any size. Place them every 6 inches.
Step 5
Lift the mattress back up and put it on top of the box spring. Lay it down flat where it needs to go, and try not to slide it around on top of the box spring. You don't want to bunch up the skirt and have to remove the mattress to fix it.