Things You'll Need
12-inch bamboo chopstick

1 oz. black polymer clay

Rolling pin

Knife

Wood skewer

Ruler

Cookie sheet

Oven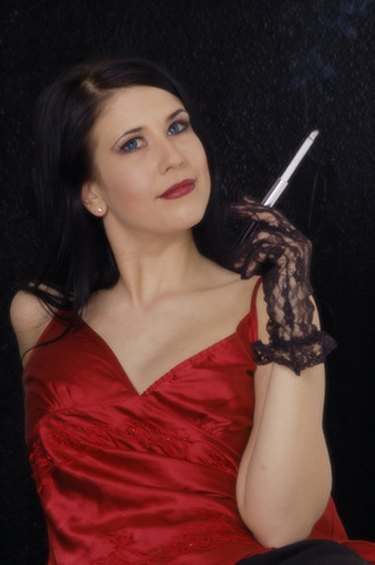 If you are planning on dressing up as a stylish flapper from the roaring twenties, then it is only logical that you carry a cigarette holder with you at all times. The cigarette holder is iconic of the flapper, just as the fringed dress and bobbed hair is. You do not have to hunt around for a replica or vintage holder, however, you can just make one yourself using clay.
Step 1
Place the clay on a clean flat surface like a counter. Roll out the clay until it is a sheet about 1/3 inch thick and at least 15 inches long and 5 inches wide.
Step 2
Cut a 14- by 14- by 3-inch triangle into the clay. Remove the surrounding clay scraps. Wrap the chopstick completely with the clay. Decide which end will hold the cigarette and push the wood skewer in until it is flush with one side of the clay. This will leave about 2 inches of clay on one end.
Step 3
Move the clay and skewer from the working surface onto a cookie sheet. Preheat your oven for 10 minutes at 175 degrees Fahrenheit. Place the cookie sheet and clay into the oven and bake for 20 minutes. Remove the clay and allow it to cool for 10 minutes before using or decorating.